Theater
Theater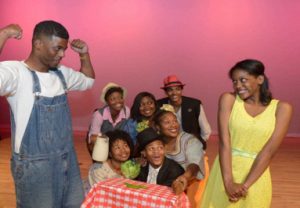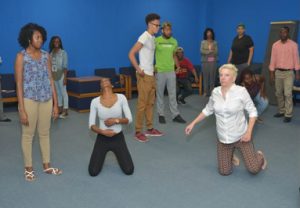 The mission of the Division of Theatre at Albany State University (ASU) is to educate students in the collaborative art of theatre by preparing them for professional employment, careers in theatre education, and graduate study. The course of study at ASU is a general education degree that teaches the craft and artistry of acting, directing, design, technical, and educational theatre. Students are encouraged and expected to experiment, explore, and discover theoretical principles inside and outside of the classroom during their tenure at ASU. Majors and minors must maintain a minimum grade of "C" is required for all theatre courses in each of the degree programs.
All division productions serve as a laboratory where students are encouraged to test their technical skills, analytical and creative abilities. Theatrical seasons are selected to provide students with the opportunity to experience plays from a range of periods and genres presented in a variety of production styles for both the ASU learning community's and the local community's edification.
ASU Graduates often pursue employment in the entertainment and related fields in a number of areas including acting, directing, arts management, education, technical theatre, and design. Teacher certification qualifies students to teach in public and private schools in Georgia and other states.
Expected Outcomes:
Theatre graduates will be able to demonstrate:
General knowledge of all areas and methods of the theatrical production process
Knowledge of the theatre history and appreciation for dramatic literature of global culture
Understanding of and basic proficiency in theatre design, technology, acting, directing, and writing
A general knowledge of the Theatrical Arts and proficiency in one or more of the following areas: Playwriting, criticism, history, dramaturgy, management, production, and performance.
For production audition information contact the Visual and Performing Arts office: 229-500-2216.
Theater Program Check Sheet
Checklist for Major
Checklist for Minor
What can you do with a degree in Theater?
Just what can you do with a degree in Theater? You set your own limitations. If you have the drive talent, and initiative to see your dreams through, then there are no limitations to what you can do. A degree in Theater prepares the graduate for an almost unlimited number of career possibilities. Practical skills are learned in areas of performance, education and communication, such as:
Professional Theater: Actor, Director, Costume Designer, Make-up Artist, Puppeteer, Play Stage Manger, House Box Office Manager, Producer, Master Electrician, Shop Foreman, Prompter, Lighting Technician, Carpenter, Publicity, Coordinator, etc.

Arts Administration: Public Relations Director, Festival Coordinator, Artistic Director, Business Manager, Special Events Coordinator, Program Planner, etc.

Education: Vocal Coach, Drama Instructor, Dramaturge, Dialects Coach Recreation Director, Lecturer, Children's Theater Director, etc.

General Business: Fashion Designer, Interior Designer, Color Analyst, Sales Representative, Product Demonstrator, Property Manager, Spokesperson, Personal Manager, Advertising Account Executive, Convention and Meetings Coordinator, Program Planner, etc.

Communication and Media: Casting Agent, Reporter, Sound Technician, Disc Jockey, Recording Engineer, Interpersonal Communications Specialist, Entertainer, Personal Manger, etc.
Are there performance opportunities at Albany State? Are you kidding? Albany State's theater performances are always a big hit on the campus and in the community. The Albany State University Theater Ensemble puts on three major performances per year. And after our students finish playing in Albany , usually to a full house; they take the show on the road.
What does Albany State offer the Theater Major? Albany State University will offer you a well-rounded education in speech and theater. At Albany State, we'll provide you with:
Training and experiences in theater at various levels according to your needs
Course work in performance, dramatic literature, speech, and creative studies
A laboratory for student and faculty creative development
Facilities and equipment adequate to the need of your training program
Three full productions annually
The opportunity to participate and compete in state, regional, and national competitions
Membership in the leading theater and speech organizations in America .
For more information or for audition information, contact the Albany State Department of Fine Arts at (229) 500-2216.