The Pierian
The Pierian is an official publication of the Albany State University Pierian Club of the Department of English, Modern Languages and Mass Communication. It was founded by Emerita Professor Dr. Velma F. Grant, who formed the Pierian Club student organization for English Majors at Albany State University in 1967. What was originally called "the little magazine" came to be known as The Pierian,which serves as an outlet for creative expression of the written word for ASU students, faculty and staff. It is now issued each Spring.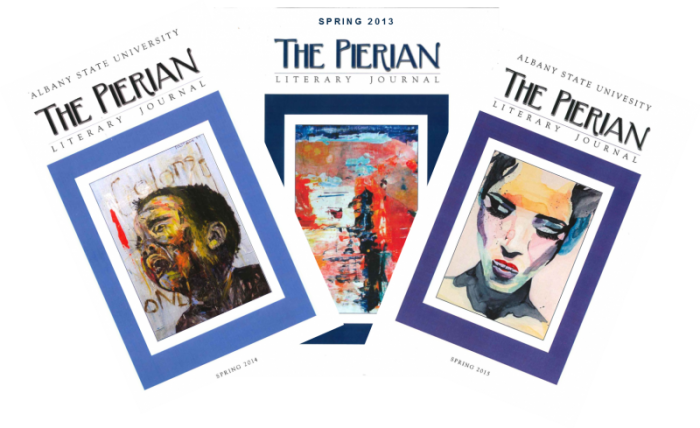 Mission
In the tradition of the mythological Macedonian spring believed to be a fountain of knowledge inspiring all who drink from it, The Pierian Journal publishes original, unpublished prose and poetry from ASU, local, state, and national authors. The journal seeks works that invite our attention beyond the familiar and inspire us to explore widely shared human experiences.

The journal accepts original works (poems, short stories, one-act plays, or personal essays) by ASU students, faculty, and staff, as well as state and national contributors.
Submission Guidelines
Each submission should be accompanied by a cover letter that identifies the author's name, mailing address, and email address.
Authors should provide a brief bio (no more than 75-words) in the cover letter. If authors are affiliated with Albany State University, Dougherty County Public Schools, or any school in the ASU service area, they should note that in their cover letter.
The journal accepts only original, unpublished works.
Simultaneous submissions are accepted, but authors must notify the journal immediately in the event of publication elsewhere.
Please do not mix genres in the same submission.
Poetry Guidelines: authors may submit up to 3 poems, maximum of 6 pages. Poems must be submitted in one document. We welcome most styles and forms; however, we favor poems that take risks—whether they be quiet or audacious.
Prose Guidelines: Short stories should not exceed 1500 words. Personal essays should not exceed 1000 words. Plays should be one-act and not exceed 1500 words. We are particularly interested in prose that pushes the boundaries of form to forge new spaces in the literary arc.
Submissions by ASU students, faculty and staff will be accepted annually. Outside contributors should also adhere to the annual deadline.
Submissions must be made electronically. E-mail submissions as a WORD attachment to: thepierian@asurams.edu
The Pierian does not provide monetary compensation for entries selected for publication. Copies of the journal are available upon request to outside contributors. Only one copy is allowed per contributor.
For more information, contact the editor: Dr. Jeffery D. Mack at (229) 500-2197.
The Pierian Office: Wiley Hall, Room 308, Albany State University, 504 College Drive, Albany GA 31705