Homecoming 2021

Mark your calendars - Homecoming is back in 2021. We missed you on campus last year, but we are excited to see all alumni and friends celebrate the Golden Rams Homecoming on October 3-9 .
At Homecoming, the Ramily comes alive as our community — students, alumni, faculty and staff — come together to celebrate our great university. If you haven't been back on our beautiful campus in a while, Homecoming is the perfect time to see for yourself how ASU's impact has grown, as seen in newly renovated facilities, excellent academic programs and scholarly activity.
As we move forward, our planning must be flexible, as it has over the last 18 months, based on current health data. We will provide updates about any impacts COVID-19 guidelines may have on events. Check this website often for updates as we bring you the latest news on this year's events. Some events below may require pre-registration to attend. We encourage everyone to wear a mask for indoor and outdoor events as well as get vaccinated.
Albany State University Homecoming events will depend on community health conditions. Modifications may include pre-registration, limited attendance, and relocating events. We strongly encourage you to wear a mask, inside and outside, regardless of vaccination status. Mask up, wash your hands regularly, and get vaccinated and tested. Vaccinations, testing, and masks will all be available. ASU is offering vaccine incentives to students, faculty and staff. For more information regarding vaccine incentives visit VaxUp Incentives..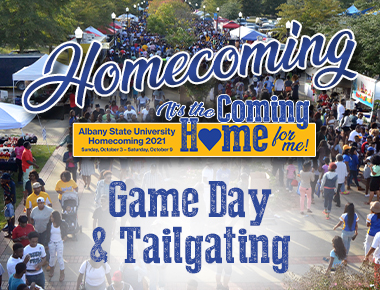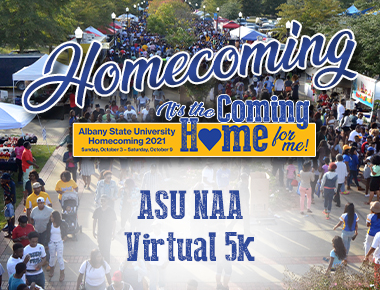 SEPTEMBER 30 – OCTOBER 7
ASU National Alumni Association Virtual 5K: Exercising for ASU Excellence
Registration: $19.03 (plus fee)
Wear your favorite ASU apparel – submit your time and pictures to asuramily5k@gmail.com
For more info: 229.435.2386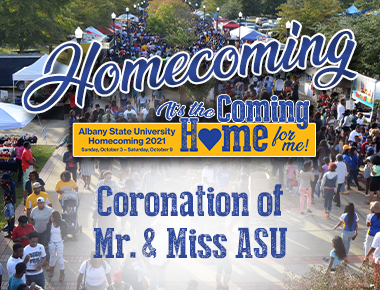 SUNDAY OCTOBER 3
Coronation of the 79th Miss and 9th Mister ASU.
2 p.m.
West Campus - J Building Auditorium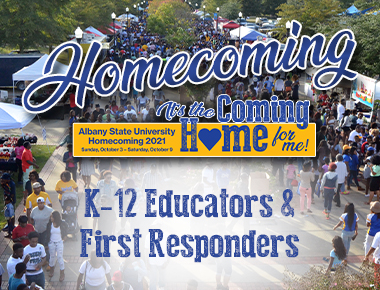 WEDNESDAY OCTOBER 6
6:30 – 8:30 p.m. | K-12 Educators and First Responders Appreciation Drop-In Social
The Flint Restaurant | 112 Pine Avenue For more info: 229.500.3286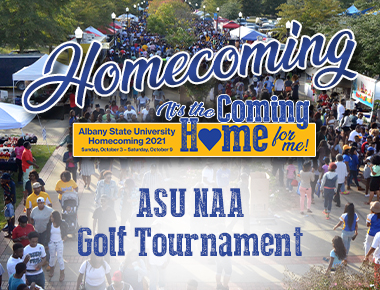 FRIDAY OCTOBER 8
7 a.m. Registration | ASU National Alumni Association Golf Tournament | Flint River Municipal Golf Course
2-Person Team Scramble Shotgun Start
$60 per person/$120 per team, includes Green fee, cart, range balls, awards, lunch and beverage.
For more info: Tony Phillips 912.695.2702
Golf Course Manager: Roy Snead 229.302.1491 National Alumni Association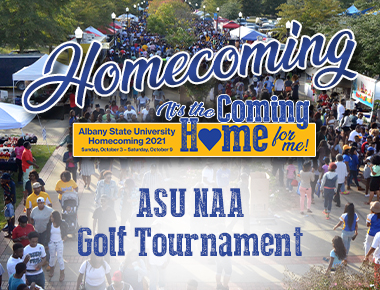 FRIDAY OCTOBER 8
12 p.m. | ASU National Alumni Association Hall of Fame Induction Ceremony
East Campus – L. Orene Hall Building Front Steps
For more info: 229.500.3286
Institutional Advancement / National Alumni Association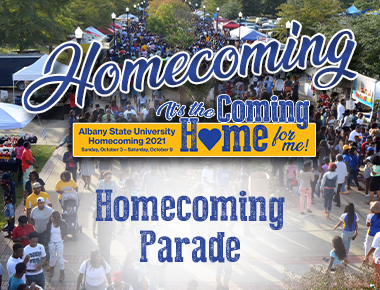 SATURDAY OCTOBER 9
The annual homecoming parade is one of the most anticipated events of the Albany State University Homecoming celebration. The parade will begin promptly at 9 a.m.
Parade Marshal: Dr. James "Eddie" Black '89
Please direct all inquiries to Homecoming Parade Coordinators:
Joslyn DiPasalegne at (229)-500-3288, joslyn.dipasalegne@asurams.edu
Pearlie Bowser, at 229-500-3511, pearlie.bowser@asurams.edu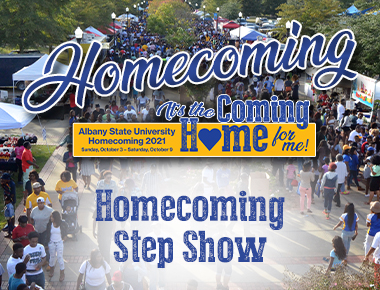 SATURDAY OCTOBER 9
Homecoming Step Show and Student Concert featuring K Camp hosted by Mr. Bankshot.
East Campus Jones Brothers HPER Complex Open to the Public
Tickets $30 / Students $20 For more info: 229.500.3531
Doors open at 5pm and the show starts at 6pm
Offices of Greek Life and Housing and Residence Life