Faculty & Staff Compensation and Classification Study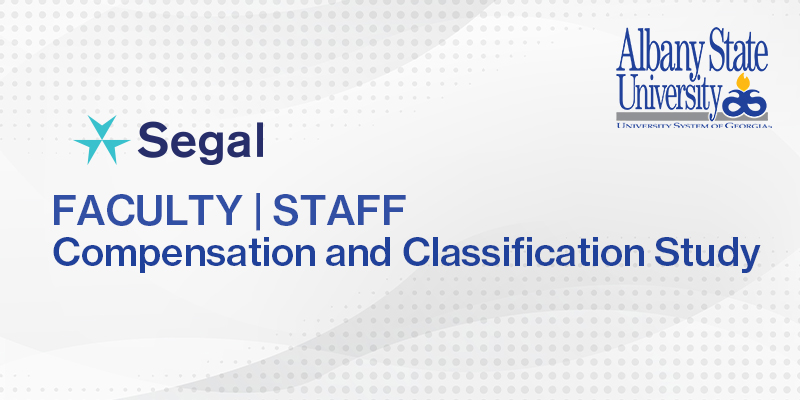 The goal of the Faculty and Staff Compensation and Classification Study is to develop an equitable classification and compensation plan while also reviewing the classification and compensation of our faculty and staff. This review is intended to advance the pay and classification plans for our institution which will result in a comprehensive study based on selected market data. In the end, we will create an institutional value proposition intended to attract, recruit, and retain talent.
Please click here to view communications related to this study.
As of April 1, 2022:
Phase 1: Project Kickoff and Discovery – August 2021 – February 2022
Interview/Focus Group Sessions - Completed

Provide a campus update from the interview/focus group sessions

- Completed


Phase 2: Information Gathering & Review – November 2021 – March 2022

Job Questionnaires will be sent out to all staff employees – February 2022 - Completed

ASU provided baseline information to Segal including existing job classifications and descriptions - Completed
Phase 3: Develop Compensation Market Assessment – December – June 2022

Phase 4: Develop Salary Structures – May - August 2022

Phase 5: Segal Report Findings and Recommendations to ASU – July – August 2022
As of April 1, 2022:
Segal to review the updated staff census information and incorporate




into staff classification

Segal to send ASU a list of items to review by April 8

ASU to review job description template and provide feedback by April 8
Items Needed:
Link to PDQ

Employee ID

Chrome (preferred) or Safari web browser (Contact IT)

Position Description (Contact Your Supervisor)

Essential Functions Worksheet (If an employee does not have a position description, they can begin writing their essential functions using slides 21-26 in the training deck)
Instructional Step-by-Step Video:
Frequently Asked Questions
Classification and compensation studies review internal equity (pay relationships between positions) and external competitiveness (pay relationships with labor market competitors) to ensure equality.
A Position Description Questionnaire (PDQ) is a description of an individual classified position. It is a tool for collecting meaningful information about the specific characteristics of a single position. The PDQ describes duties, responsibilities, supervisory relationships, and other details of a position.
Goal four of the Standard is Leadership Development and Employee Engagement. It is important that we begin our strategic journey by evaluating the competitiveness and equity of compensation for our faculty and staff. With that goal in mind, we have begun a full review of compensation levels, practices, and administration for ASU faculty and staff as part of the Faculty and Staff Compensation and Classification Study.
We heard you during our employee engagement process in the last few years. We want to ensure that we have organizational effectiveness and are able to achieve student success.

This process will support our strategy to develop a total reward and compensation and philosophy. A periodic study like this one helps to ensure that faculty and staff compensation programs are comprehensive, equitable, and competitive.
The Study results will help us to determine our approach and next steps. What I can tell you, is we are committed to ensuring no one is adversely impacted through this process.
The Study results will help us to determine our approach and next steps. It is too early for us to predict the outcome of the Study.
The results will happen over time. Throughout the process, we will provide updates on milestones. The Study is a multi-phased process that requires analysis, recommendations for us to consider, and an implementation plan. After the Study is completed, we will have to review the recommendations, develop an implementation plan and identify the best way to fund the plan.
This is the first Study like this since the consolidation of ASU and Darton in 2017. After this in-depth study is conducted, we will have periodic updates to ensure we are competitive and staying in alignment with the marketplace.