Campus Update 12/7/21
Funds Available to Students Spring 2022
We are pleased to announce that Albany State University will use funds received from the HEERF (Higher Education Emergency Relief Funds) Program to assist students enrolled for the spring 2022 semester.
What is required by every student?
Please check your student email for emails from Frank Malinowski via Smartsheet "automation@smartsheet.asurams.edu" with the subject "YOUR ACTION NEEDED – Spring 2022 HEERF Funding Now Available – Please Read". To receive these funds, you must click the blue button in the body of the email to choose how funds will be distributed to you. See example below: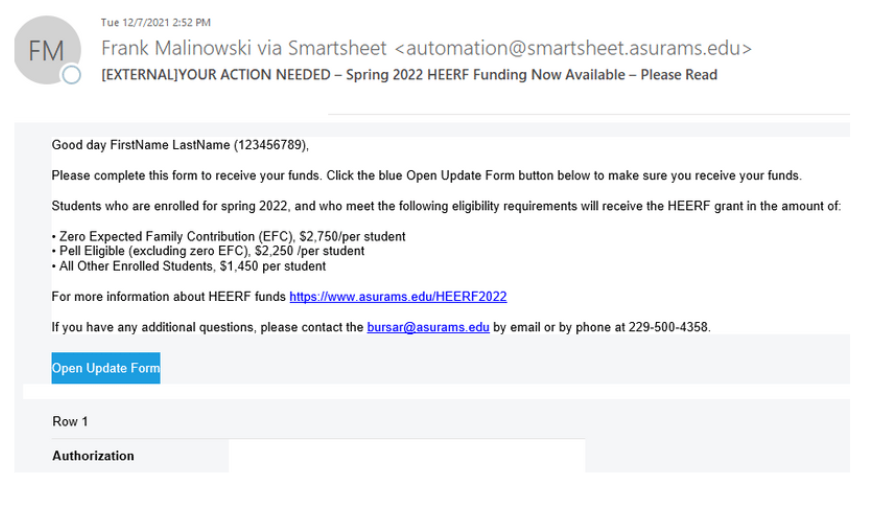 What amount will eligible students receive in HEERF funds?
Students who are enrolled for spring 2022, and who meet the following eligibility requirements will receive the HEERF grant in the amount of:
Zero Expected Family Contribution (EFC), $2,750/per student

Pell Eligible (excluding zero EFC), $2,250 /per student

All Other Enrolled Students, $1,450 per student




Who will be eligible to receive HEERF funds?
ASU is required to prioritize grants to students with exceptional need, such as students who receive Pell Grants. However, students do not need to be Pell Grant recipients or eligible for Pell Grants in order to receive a grant through HEERF.
ASU will use each student's Expected Family Contribution (EFC), as determined by the U.S. Department of Education using the 2021-2022 FAFSA, to award the emergency grant based on each student's socioeconomic circumstance. The award amounts are determined by tiers not to exceed the allotted HEERF grant award amount.
Where can students find their Expected Family Contribution (EFC)?
Each student's EFC can be found on their Institutional Student Information Record or their Banner Web Self-Service account.
What are the next steps for students to take to receive this award?
Students have an option to apply the award directly to their account balance. If the account has a credit balance, a refund will be issued. The award may also be issued directly as a refund.
All students must complete an authorization before the Bursar's Office can process the award. An email will be sent to your ASU student email with the steps to complete the authorization.
When will students receive the HEERF Grant?
ASU students will be notified via their student email once the award process is complete. ASU will begin to disburse funds beginning the week of January 17, 2022.