Office of the President
"Our students and the experience that we provide defines our past and clearly identifies what is required to move forward. Our future is bright, and our vision is bold." - President Fedrick
Marion Fedrick
President of Albany State University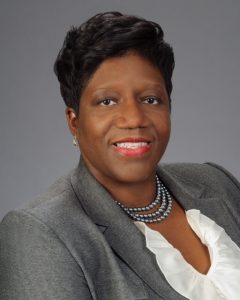 Marion Fedrick was appointed president of Albany State University on August 14, 2018, after previously serving as interim president for six months. She initially joined the university's administration as interim executive vice president on October 16, 2017.
Since Fedrick assumed a leadership role at Albany State University, the institution has undertaken several initiatives, including an assessment designed to improve the student experience and a comprehensive effort with faculty to reimagine the university's academics.
Prior to her appointment at Albany State, Fedrick served in several executive leadership roles throughout her career. The most recent role was that of vice chancellor for human resources at the University System of Georgia (USG), overseeing strategic initiatives and administration of all system-wide human resources planning and initiatives (resulted in a $500 million statewide healthcare plan), employee benefits programs, and organizational and leadership development initiatives.
She has also served as assistant commissioner for the state of Georgia's Office of State Personnel Administration, Director of Corporate Human Resources at AT&T, director of compensation and benefits planning at BellSouth, human resources division manager at Emory Healthcare, and assistant director of human resources at Clark Atlanta University.
As assistant commissioner for the State of Georgia's Office of State Personnel Administration, Fedrick oversaw the human resources, compensation, and benefits functions for the state of Georgia. She played a key role in developing a strategy for the employee benefits program that resulted in a first-year savings of $3 million. She also led the redesign of the employee benefits package statewide, resulting in premium savings of over $20 million in year one and $5 million in year two. Fedrick led the redesign of the department leading to streamlined processes, improved customer service, and efficiency in government practices.
Fedrick has served in various professional, community, and civic organizations including as trustee for the Teacher's Retirement System of Georgia and Client Advisor for Fidelity, AON, and TIAA Cref. She also served on the Board of Communities in Schools of Atlanta and as an active member of World at Work, the National Society for Human Resources Management, and the International Foundation of Benefit Professionals. Fedrick is also a volunteer for Boys and Girls Club and Girls Inc., in addition to being an alumna of Leadership Georgia, Leadership Atlanta, Leadership Athens, and the United Way VIP Program.
Fedrick received a bachelor's and master's degree from the University of Georgia and is a certified senior human resources professional. She and her husband, Horace, who is a 34-year law enforcement veteran, have one daughter, Sarah, who is in middle school.