Forensic Majors Achievements
Forensic Majors Achievements
2021
Toxicology Mentoring and Skills Development Training Program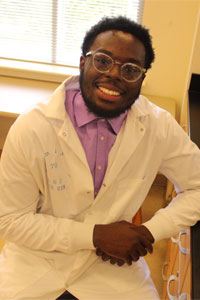 Tre'Von Williams Forensic science students at the unsinkable Albany State University is one of 25 undergraduate students competitively selected from across the country to the Toxicology Mentoring and Skills Development Training Program (ToxMSDT). Tre'Von Williams is the first student ever to have been selected to participate in ToxMSDT from Albany State University. Tre'Von will be mentored by Dr. Moumita Dutta.
Program components include the self-directed completion of six learning-modules providing foundational knowledge in toxicology ranging from 'Principles of Toxicology' to 'Applied Systems Toxicology'. The expected outcome of this training and mentoring program is that graduating students will be trained in toxicology by professionals to competitively join graduate training programs in toxicology.
Internship with the Dougherty County Coroner's Office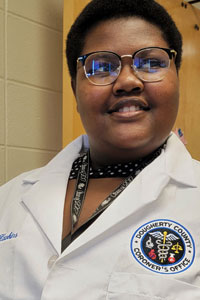 Deauvion Hawkins is a graduating senior majoring in Forensic Science at Albany State University. Originally from a small town known as Colquitt, GA in Miller County, she now lives in Albany, Georgia. Deauvion Hawkins is currently an intern with the Dougherty County Coroner's office. She has been exposed to various death related crimes. She serves as secretary of the Forensic Science Club at ASU and plans to use the knowledge and skills she is learning from both the internship and program to help further reach her career as a crime scene investigator.
TMCF 21st Annual Leadership Institute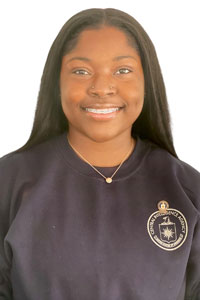 Earlier this summer Jada Smith received an acceptance to attend the Thurgood Marshall College Fund's (TMCF) 21st Annual Leadership Institute and was also selected to participate in the 2021 Central Intelligence Agency (CIA) Immersion Program. The CIA program exposed her to various team building exercises and professional development experiences; learning soft skills via stimulation exercises.
According Jada Smith the program was definitely an eye opener. "I am not only grateful to have been chosen to learn about the Central Intelligence Agency, but I am honored to be able to represent Albany State University. This program allowed her to meet so many prominent agents and scholars, and I am thankful I was able to be amongst great minds".
2019
Job Positions – Post Graduate Forensic Alumni
Mr Andrew Tabatt got a job in the GBI lab Moultrie as a lab technician February 2020 , is a graduate of ASU forensic science degree program, graduated in 2016.
Deandra Francis got a job in Albany Police Department as a Crime Scene Technician February 2020 . She was the past president of the Forensic Science club and vice president of DDE.
Malette Adrianna got a job in Brookhaven Police department January 2020
Christiana Dun Atlanta Police Department
Alexis Bailey got a job as a Crime Scene Technician in Shalimar, Florida since 16th December 2019.
Shaniece Makayla Castro became a Forensic Scientist at Quest Diagnostics, Atlanta
Specific Internship / Research performed
Name
Semester
Internship / Research
McCrae Da' Monie
2019-20 Fall Spring
GBI Internship Spring 2019- 2020, Sylvester GA
Kiandria Floyd
2019 Fall
12 week Internship with Albany Police academy , Crime scene visit and analysis
Darlene Mills
2019 Fall
Research- Identification of the Binding strength of synthetic cannabinoids to serum proteins as compared to CB1
Alexis Cuff
2019 Fall
Intern with Dr Fowler, Coroner , Dougherty county on four death cases
Makyah Clayton
2019 Fall

Review of research papers

Rapid Analysis of Cocaine in Saliva by Surface-Enhanced Raman Spectroscopy

Michael West
2019 Fall

Review of research papers

"Fire Arson and Explosives"
Alese Brown
2019 Spring
Research on Identifying Human Touched Objects by Reverse Fingerprint Lifting
Teflon Marsham
2019 Fall
Department of Justice, Virgin Island US
2017
Sample Khalil:

Attended the Summer research Experience at the Center for Statistics and Applications in forensic Science (CSAFE) at Iowa State University, Iowa from 30th May to August 4 , 2017

Adrew Kimble:

Attended the Summer research Experience at the Center for Statistics and Applications in forensic Science (CSAFE) at Iowa State University, Iowa from 30th May to August 4 , 2017

Alexis Bailey:

Summer research fellowship Furman University NSF Research Experience for Undergraduates (Faculty research mentor: Dr; O.A. Vanderpuye) May-July, 2017, Greenville, SC

Christina Dunn:

Summer research fellowship, Furman University NSF Research Experience for Undergraduates (Faculty research mentor: Dr; O.A. Vanderpuye) May-July, 2017, Greenville, SC
Alexis Lampkin:

American Society of Crime Laboratory Directors Scholarship, July 2017

Ze'Andra Whitfield and Ashli Brown:

Society of Toxicology Travel Award, for March, 2017, San Antonio, TX

Alexis Bailey:

Southeastern Section of Society of Toxicology Travel Award, for October, 2017, Fort Valley, GA

Ze'Andra Whitfield:

Annual Biomedical Conference for Minority Scientists Travel Award , November, 2017, Phoenix AZ

Ze'Andra Whitfield:

Emory University Student Research Symposium, September, 2017, Atlanta, GA

Alexius Lampkin:

Emory University Student Research Symposium, September, 2017, Atlanta, GA

Alexius Lampkin:

National Organization of Black Chemists and Chemical engineers, November, 2017, Cincinnati, OH

Alexis Bailey (coauthor, Christina Dunn):

Poster on p450 metabolism of synthetic cannabinoids – Society of Toxicology Southeastern Regional Meeting, October, 2017, Fort Valley State University, GA
Poster on p450 metabolism of synthetic cannabinoids – Southeastern Regional Meeting of the American Chemical Society, November, 2017, Charlotte, VA

Christina Dunn (co-author, Alexis Bailey):

Poster on human liver microsomes metabolism of synthetic cannabinoids – Annual Biomedical Conference for Minority Scientists, November, 2017, Phoenix, AZ
Poster on human liver microsomes metabolism of synthetic cannabinoids – Black Doctoral Network , undergraduate poster session, October, 2017, Atlanta, GA

Deandra Francis:

Oral presentation on Terahertz spectroscopy identification of illicit drugs and explosives and spectral library construction- National Institute of Standards and Technology, SURF Colloquium Gaithersburg, MD, July, 2017.

Ze'Andra Whitfield:

Poster on synthetic organic chemical synthesis – Annual Biomedical Conference for Minority Scientists, November, 2017, Phoenix, AZ
Poster on synthetic organic chemical synthesis – Emory University Student Research Symposium, September, 2017, Atlanta, GA

Kahlil Sample:

Poster on forensic steganography– Annual Biomedical Conference for Minority Scientists, November, 2017, Phoenix, AZ

Alexius Lampkin:

Poster on sum frequency generation IR analyses of collagen in microscopy of tissue- National Organization of Black Chemists and Chemical engineers, November, 2017, Cincinnati, OH
Poster on laser assisted microscopy imaging- Black Doctoral Network , undergraduate poster session, October, 2017, Atlanta, GA

Mercedes Fortune:

Poster on synthetic organic chemical synthesis – Emory University Student Research Symposium, September, 2017, Atlanta, GA

Ashley Walker:

Poster on organophosphorus nerve agent toxicity for mouse neuronal cell lines- Society of Toxicology Annual Conference, March 2017, San Antonio, TX

Ashley Walker:

Albany State University,6th Annual Undergraduate Research Regional Symposium, October, 2017, research presentations were made by these and other forensic science students: Kahlil Sample, Andrew Kimble III, Da'monie McRae, Ashley Walker, Jasmine Thomas

Ashley Walker:

1st place award for oral presentation in STEM category went to Da'monie McRae for her presentation on: Quantification of blood cyanide using micro diffusion sample preparation and cobinamide spectrophotometric analysis

Ashley Walker:

1st place award for poster presentation in STEM category went to Ashley Walker for her poster on: Toxicology of mevinphos for NB41A3 mouse cell line
Jasmine Thomas:

Title of the research: Characterization of fingerprinting for forensic case studies – Fall 2017

Allen Tynesha:

Characterization of Fingerprints
Alexis Lampkin:

American Society of Crime Laboratory Directors Scholarship. July 2017

Deandra Francis:

Summer Undergraduate Research Fellowship, National Institute for Standards and Technology, Gaithersburg, MD, May-July 2017.

Alexis Bailey and Christina Dunn:

Research fellowship at Furman University NSF Research Experience for Undergraduates (Faculty research mentor: Dr; O.A. Vanderpuye) May-July, 2017, Greenville, SC

Jasmine Thomas, Ze'Andra Whitfield, Shaniece DeCastro:

Research internship at University of California Irvine, Center for Chemistry at the Space Time Limit, Irvine, CA

Alexis Lampkin, Da'monie McRae:

Research internship at University of California Irvine, Pathways to Biophotonics and Bioengineering, Irvine, CA
Students Jobs and Graduate School
Jonathan Jones:

Teaching Assistant and current MS student in Chemistry at Georgia State University, Atlanta, GA

Kirsti Gilmore:

Graduated MPH, University of Illinois, Chicago

Pamela Johnson:

was Forensic Technician with Dekalb County, GA Medical Examiner, currently technologist at Quest Diagnostics, Atlanta

Keonna Jones:

Pathologists Assistant, DeKalb County, GA, Medical Examiner

Victoria Stephens:

Post Baccalaureate program, (preparation for MD-Ph. D program application) Iowa State University, IA

Brandi Parker:

Crime Scene Investigator trainee, Atlanta Police Department