Admissions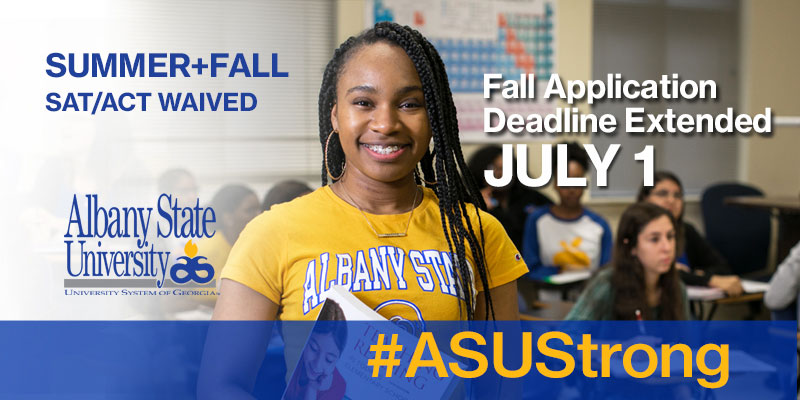 Albany State University understands how exciting--yet difficult--the college selection process can be, so be assured that you will receive personalized attention from our staff throughout the process. It is our goal to work with you and your family, so you can make an informed decision.

Our students are able to enjoy the benefits of a full range of undergraduate and graduate programs providing a solid liberal arts foundation. With our access mission, incoming freshman whose Scholastic Aptitude Test (SAT) and/or American College Test (ACT) scores fall below the minimum traditional freshman admission requirements and/or students that have not taken any standardized tests may qualify for the Access Pathway Associates degree program. The Access Pathway program students are able to transition from the Associate degree into a Bachelor's degree at Albany State University after completing 30 hours and earning a minimum GPA of 2.0.

Albany State University is accredited by the Southern Association of Colleges and Schools Commission on Colleges. We want to ensure that you will receive a rich educational experience.
NON DISCRIMINATION INFORMATION FOR APPLICATION AND CATALOG
Albany State University does not discriminate on the basis of race, color, national origin, sex, sexual orientation, gender identity or expression, veteran status, physical or mental disability, religion, or age in its programs or activities. Non-discrimination on the basis of sex is mandated by Title IX of the Education Amendments of 1972 (20 U.S.C. §§ 1681 et seq.) and the corresponding implementation regulations (34 C.F.R. Part 106). Title IX specifically states that "No person in the United States shall on the basis of sex be excluded from participation in, denied the benefits of or be subjected to discrimination under any education program or activity receiving Federal financial assistance."
The University's commitment to non-discrimination, including against sex discrimination, applies to students, employees, and applicants for admission and employment. If you have questions about TItle IX or believe that you or another member of the University community have been discriminated against on the basis of sex, the following person has been designated to handle inquiries regarding the University's nondiscrimination policy. For sex discrimination claims or other inquiries concerning the application of Title IX of the Education Amendment of 1972 and its implementing regulations, individuals may contact this individual or the Assistant Secretary in the U.S. Department of Education Office of Civil Rights:
Kimberly Carter, Director/Title IX Coordinator
Equity & Compliance
Daisy Brown Building
Telephone: (229) 500-3304
Email: kimberly.carter@asurams.edu
To report an incident of sexual discrimination/harassment, please click below:
https://cm.maxient.com/reportingform.php?AlbanyStateUniv&layout_id=8
Inquiries may also be directed to:
United States Department of Education/Atlanta Office of Civil Rights
61 Forsyth Street SW, Suite 19T10
Atlanta, Georgia 30303-8927
Telephone: (404) 974-9406
Email: ocr.atlanta@ed.gov
Undergraduate

YOUR Potential. Realized. begins here at Albany State University, our goal is to help students realize their potential. We prepare students for success in their life and careers by offering students educational opportunities, guidance, and support that extends beyond the classroom. Students who are interested in pursuing a degree but have not yet obtained a 4 year college degree or to obtain a second bachelor's degree.

Graduate

Through the many graduate programs offered, our goal is to ensure academic excellence for each student by providing in-depth, quality instruction. Upon graduation, it is our vision that every ASU student gain the skills to compete in a technologically advanced society, have an understanding of ever-changing world events and adapt to them with an appreciation for the importance of lifelong learning.

Veteran Admissions

We recognize veterans and military men and women striving to receive their education and take pride in helping you achieve your educational goals. We provide resources for military veterans, spouses and their dependents.

Transfer

A transfer student is a student who has earned at least 30 transferable semester hours (45 transferable quarter hours) from a previous institution. Minimum transfer GPA is 2.0.

Dual Enrollment

The Dual Enrollment program allows high school students to enroll in college level courses. The best part is students earn credit for college classes AND their equivalent high school course at no or very little cost to the student.

Additional Students

If you are a returning, transient, post-baccalaureate or international student, we have made the admissions process streamlined and easy for you as well.
ink will take you to the GAFutures website to apply!
Important Admission Deadlines for Spring
| | | | |
| --- | --- | --- | --- |
| Term | Full term | B-Term | Dual enrollment |
| SPRING 2021 - Admissions (includes Transcript(s) & Test Scores), Financial Aid | Nov 1, 2020 | Nov 1, 2020 | Nov 1, 2020 |
| SPRING 2021 - Fee Payment | Jan 4, 2021 | Mar 5, 2021 | |
| SPRING 2020 - Drop for Non-Payment | Jan 11, 2021 | Mar 16, 2021 | |
Important Admission Deadlines for Summer
| | | | |
| --- | --- | --- | --- |
| Term | Full term | B-Term | Dual enrollment |
| SUMMER 2021 - Admissions (includes Transcript(s) & Test Scores), Financial Aid | April 1, 2021 | April 1, 2021 | April 1, 2021 |
| SUMMER 2021 - Fee Payment | May 15, 2021 | June 22, 2021 | |
| SUMMER 2021 - Drop for Non-Payment | May 22, 2021 | June 26, 2021 | |
Important Admission Deadlines for Fall
| | | | |
| --- | --- | --- | --- |
| Term | Full term | B-Term | Dual enrollment |
| FALL 2021 - Admissions (includes Transcript(s) & Test Scores), Financial Aid | June 1, 2021 | June 1, 2021 | June 1, 2021 |
| FALL 2021 - Fee Payment | Aug 7, 2021 | Oct 2, 2021 | |
| FALL 2021 - Drop for Non-Payment | Aug 14, 2021 | Oct 9, 2021 | |
Contact Information
Admissions Office Hours
Days:
Monday - Thursday
Friday
Time:
7:00 a.m. – 6:00 p.m.
Closed
Undergraduate Admissions office
Building:
Student Center Building C West Campus
Office:
Ram Central
Street:
2400 Gillionville Road
City:
Albany
State:
GA
Zip:
31707
Phone:
(229) 500-4358
Fax: (229) 500-4946
Email:
admissions@asurams.edu