First Year Experience at ASU
Director, First Year Experience

Favorite Quote: "You don't have to be great to start, but you have to start to be great."
Zig Ziglar

Welcome!
RAMily,
I am excited to welcome you to the RAMily! I am the Director of First Year Experience, and committed to your success at the unsinkable Albany State University. Student Success promotes student engagement in and outside of the classroom. I am here to ensure that you have a smooth transition from high school to college by encouraging students to perform academically, participate in campus activities, and develop a sense of self and belonging.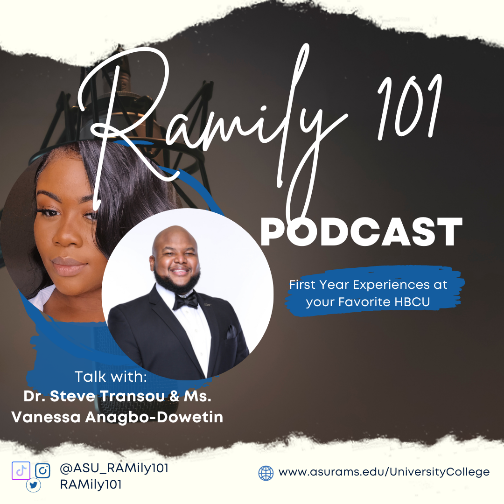 Please follow the RAMily 101 Podcast on Anchor, Apple Podcast, and Spotify to hear sound advice from student leaders, staff, faculty, and alumni.
RAMily 101 was created to give high school seniors and first-year Rams a perspective on what to expect during their onboarding and first year on campus. We will have student cohosts and guest appearances from student leaders, faculty, staff, counselors, and alums.



Dr. Steve Transou
Director, First Year Experience
steven.transou@asurams.edu

UniversityCollege@asurams.edu
229-500-2003