Stay Ready! Workshop Series
Student Success at ASU provides an array of workshops throughout the semester on various topics critical to success in the classroom. Student groups, Registered Student Organizations (RSOs), academic departments, and instructors can request workshops on this schedule or specialized topics. To request a presentation or workshop, please complete this request form and a member of the ASU Student Success team will be in touch!
*Please check regularly for additions, reschedules, or cancellations.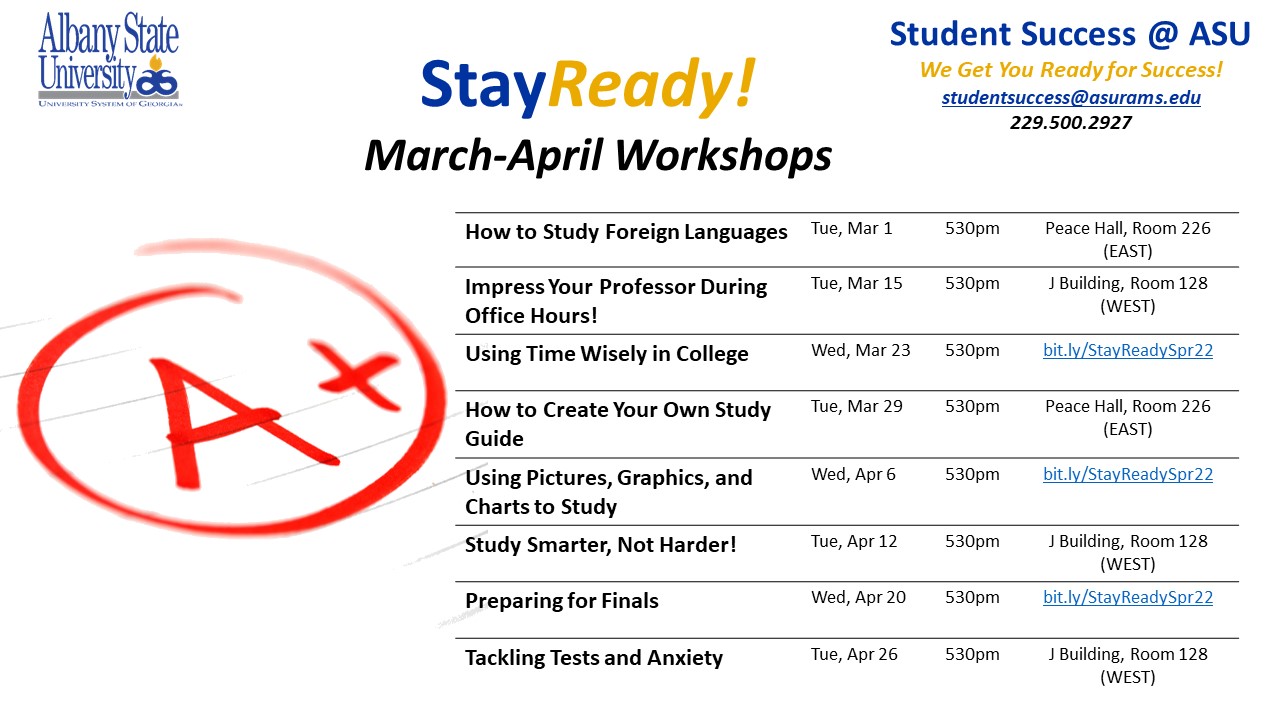 Tuesday
March 1, 2022

5:30 pm

In-Person

How to Study Foreign languages

Peace Hall, Room 226
East Campus

Tuesday
March 15, 2022

5:30 pm

In-Person

Impress Your Professor During Office Hours!

J Building, Room 128
West Campus

Wednesday
March 23, 2022

5:30 pm

Webex

Using Time Wisely in College

Virtual

Tuesday
March 29, 2022

5:30 pm

In-Person

How to Create Your Own Study Guide!

Peace Hall, Room 226
East Campus
Wednesday
April 6, 2022

5:30 pm

Webex

Using Pictures, Graphics, and Charts to Study!

Virtual

Tuesday
April 12, 2022

5:30 pm

In-Person

Study Smarter, not Harder!

J Building, Room 128
West Campus

Wednesday
April 20, 2022

5:30 pm

Webex

Preparing for Finals

Virtual

Tuesday
April 26, 2022

5:30 pm

In-Person

Tackling Tests and Anxiety

J Building, Room 128
West Campus
Contact Us
Dr. Kimberly Burgess
Executive Director of Student Success

kimberly.burgess@asurams.edu

(229) 500-2927