Ram Rush Information
GENERAL INFORMATION
The City of Albany Transit has a contract with Albany State University (ASU) to provide "Ram Rush" bus transportation for students, faculty, and staff. This service provides public transportation from the East Campus to the West Campus. Any student enrolled at ASU with a valid student ID card can ride any Albany Transit System bus route for free. This route is also available to the general public at the normal bus fare.
There are three bus stops on both the West Campus and the East Campus totaling six stops. The hours of operation are Monday through Friday 6:00 a.m. to 9:00 p.m. and Saturday from 8:00 a.m. to 2:00 p.m. Students are encouraged to download the Route Shout 2.0 app for bus information, such as times and location for all bus routes. Available on iTunes and the Android App Store.
Amenities
WI-FI

CHARGING STATION

INFORMATION MONITORS

SOLAR BUS
SHELTERS

TRASH RECEPTACLES
East Campus Bus Stops:

West Campus Bus Stops:

Dennis Drive (Between Hall 3 and Student Center)
Joseph Holley Drive (Residence Hall 5 & 6)
Joseph Holley Drive (HPER Gymnasium)

Herbert Haley Drive (Corner Campus Road
near Village South Residence Hall)
Cavalier Drive (Physical Education Building)
East Access Drive (East Building J)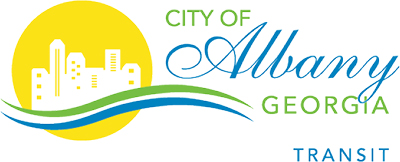 For more information about Ram Rush, please call Albany Transit at 229-446-4600.