Alumni Spotlight: France Turner
France Turner
Educational Coordinator for the Anesthesiologist Assistant Program, South University
Online Adjunct professor, Daymar College
ASU Alumna, France Turner ('04), graduated with a bachelor's degree in biology. In 2002, she became a member of the Delta Sigma Theta Sorority, Delta Rho, ASU chapter. After graduation, Turner obtained an associate degree in Mortuary Science from Gupton Jones College of Funeral Service and a master's degree in public health from Argosy University. She is the co-founder and president of the Stewart County and Stewart Quitman High School Alumni Committee and has served as the funeral director for multiple funeral homes. Turner was also recently a Top Four Rural Leader Magazine 40 under Forty Honoree and received the Above & Beyond Award at the J.C. Lewis Primary Health Care Center. Turner is also a member of the Epsilon Nu Delta Fraternity.
What do you like best about working in education?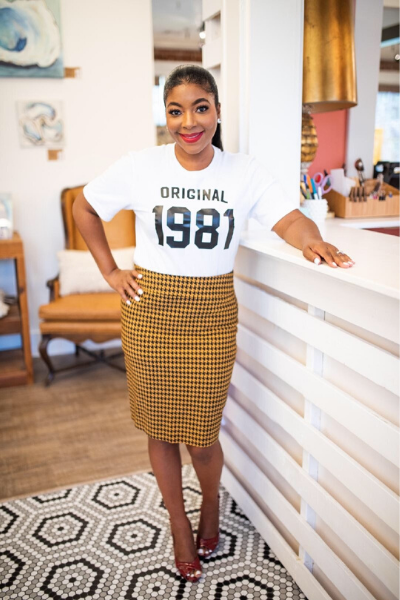 Working in higher education is unlike any other job. Students are always popping in to discuss topics and to also just receive my supportive feedback. It's impressive to see a student start out on their freshman year journey and progress as a serious and prepared graduating senior. Academia will always remain attractive and important.
What are obstacles you've had to overcome to progress in your field?
In the funeral industry, understanding that being the only woman in the room is a great thing and not an obstacle to fear. While working in higher education, it's always challenging dealing with the organizational changes. But seeing the smiles and reading thank you emails from my students, I am continuously uplifted and very much motivated for my future student success stories.
What does a day in the life look like for you?
My day usually starts with waking up at 5 am, if I don't hit the snooze button. My husband and I, both have the job of waking up our seven-year old son who does not like mornings. I am then, quickly able to dive into my role as a wife and mother while also wearing my educational coordinator, funeral director, online adjunct professor and SCHS-SQHS Alumni President hats very well throughout the remaining of the day.
What is something you are passionate about?
I am totally passionate about unifying my hometown community. Unifying my community would decrease crime, provide social change, educate youth, and allow for a real collaboration to begin.
Why are you so passionate about making a difference in your community?
I am from Richland, Georgia which is a small town in Stewart County, Georgia, a rural community with approximately 5,700 residents. According to a U.S. Census Bureau report in December 2017, Stewart County is one of the poorest counties in the nation. It is with this realization that I worked tirelessly to make a positive difference in the lives of students and other residents of the county.
How did it feel to be nominated in the Top 4 of Rural Magazine's 2019 40 under forty?
I knew that I accomplished many silent victories within my community, but by leading my hometown alumni committee and securing an estimated $10,000 in alumni homecoming ticket sales and $10,000 or more in scholarship "givebacks" for four years; it felt good to be acknowledged for making significant career and community achievements amongst many other top scholars and performers.
Who made the biggest impact on you while at Albany State University?
My sorority mentors and sorority sisters. Before enrolling at Albany State University, I was very much an introvert and only expressed my thoughts to my mother, granddaddy or aunt. However, after my "Delta Rho" experience, it finally clicked that it was okay to be who I was, a super woman, and feel okay about it.
What were some of your accomplishments while at ASU?
While being a member of an illustrious sorority, I had the opportunity to plan many Delta events for the campus and community. As the chair over the program planning committee at that time, I was able to provide a unified mission and vision that was able to bring the students and the community together for a great cause. Those same partnerships and event accomplishments are still helpful as I lead a team of high school alumni committee members to unite my hometown for a greater good.
What advice would you give to students to pursue their dreams?
Students should find a purpose and aim to fulfill it. Everyone has a unique life purpose.
Photos taken by Andre Johnson, Savannah, Georgia.