Commencement Spotlight: Bobby Knighton, Bachelor of Science in Middle Grades Education
ASU Commencement Spotlight: Bobby Knighton, Bachelor of Science in Middle Grades Education
6th Grade Social Studies Teacher, Cowan Road Middle School
Bobby Knighton, an Albany native, will graduate on Dec. 14 with a bachelor's degree in middle grades education. He was a member of the Marching Rams Show Band and also volunteers with tutoring and academic assistance in the community. Knighton graduated high school at only 16 years old. Through ASU's Dual Enrollment Program, he graduated with an associate degree in 2017. He participated in a study abroad trip to Ghana and is currently a 6th grade social studies teaching intern in Griffin, Ga.
What motivated you to learn more about your field?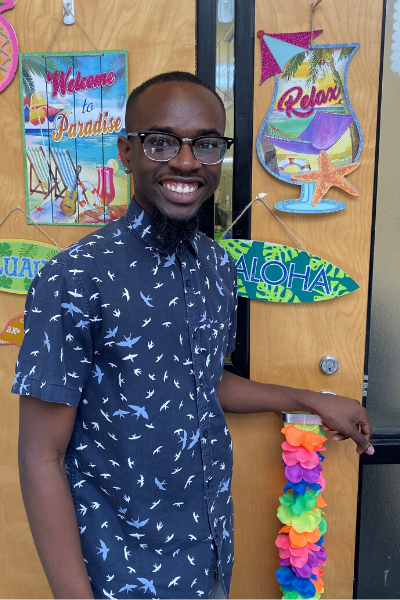 I've always known, since grade school, that I enjoyed serving as a human resource to other people. Whether it was academic assistance, social advice, or to just be a listening ear, I was always there for others, and I still am. In High School (Monroe Comprehensive High School – Albany, GA), I served as a peer advisor at the Guidance Office, and I absolutely fell in love with the work. Since then, my passion for education has grown much stronger, but that is the place it all began.
Why did you choose ASU?
After graduating from ASU through the Dual Enrollment program in 2017, I decided to continue as a full-time student that following spring. By then, I had already grown to love ASU and the wonderful faculty members who helped me along the way. Additionally, I wanted to take advantage of the outstanding Educator Preparatory Program that ASU has to offer. I wouldn't be the educator I am today without my experience at Albany State University.
What was a leadership role you have participated in and what that was like for you as a college student?
I am currently a 6th Grade Social Studies Intern-Teacher in the Griffin-Spalding School District. This has been a very rewarding experience in my college/professional career. I am gaining hands on training and first-hand experience in the classroom, while getting paid for it! I'm also surrounded by an amazing support system which makes my experience a little more comfortable. Thanks to my mentor, Dusty Pinholster, my principal, Derrick Dalton, the Internship Director, Dr. Tiffany Taylor, and my outstanding team teachers; I couldn't do it without them.
What is your favorite memory from your study-abroad trip?
My favorite memory from my trip to Ghana was when I led a professional development for the faculty and staff of Mummy's Darl Education Center (Kumasi, Ghana) on infusing critical thinking into performance assessments. This was a very life-changing experience because I never thought I'd be leading my first teacher workshop at such a young age.
What do you love most about your chosen field?
What I love the most about education is the fact that the work will never be done. There will always be lives to impact, there will always be people to help grow, and there will always be relationships to develop… and don't forget, we teach too. There are also an infinite number of opportunities for personal and professional growth – no matter how many years into the profession.
Who made the biggest impact on you at ASU?
There are just too many. How can I choose just one? Dr. Pogue, Dr. Jenkins, Dr. Owusu-Ansah, Dr. Washington, Dr. Hill and Dr. Barker have all made large impacts on my life and experience here at Albany State. There are two educators I'd like to highlight, who have significantly influenced my professional career and knowledge of instructional pedagogy: Dr. Erica L. Decuir from the Department of Teacher Education and Dr. Nneka N. Osakwe from the Office of International Education.
I learned a vast number of research-based strategies and practices from Dr. Decuir's courses ('Curriculum Needs of Middle School Child' and 'Curriculum Needs and Characteristics of the Middle School Child'). In those two courses, I have learned valuable instructional methods and practices that I am currently utilizing, and will continue to use throughout the remainder of my career as an educator.
I learned various writing techniques and developed my craft as a professional & technical writer in Dr. Osakwe's courses ('Technical Writing' and 'Rhetoric & Advanced Writing'). In those two courses, I've learned the principles of Modern Professional Communication (Written and Verbal). I was also inspired to participate in the study abroad trip to Ghana after completing one of her assignments.
What are obstacles you've had to overcome to progress as a college student?
The biggest challenge I've faced was having to maintain a full-time job and study as a full-time college student simultaneously to financially support myself. Through it all, I am expecting to be walking across the stage in December and become a Georgia-certified educator. The late nights, early morning, turned down parties, lost sleep… you name it! It's all paying off.
What advice would you give to students to other ASU students?
The best advice I could give a teacher education major at Albany State University would be to:
Participate in a study abroad program! There is free money out there with your name on it! Go to the Office of International Education to see Dr. Osakwe and Mrs. Fenn! Ask about Gilman.
Ask about the Intern As Teachers Program. In a nutshell, you could get paid to teach your own classroom during your senior year of college.
Don't forget to have fun, but keep your eyes on the prize!