Commencement Spotlight: Vanessa Christian, Associate of Science in Nursing
ASU Commencement Spotlight: Vanessa Christian, Associate of Science in Nursing
Bachelor of Science in Nursing undergraduate student, Albany State University
Oncology Unit, Phoebe Putney Memorial Hospital
Vanessa Christian, a Decatur native, will graduate from Albany State for the second time on Dec. 14 with an associate degree in nursing. In 2012, she graduated from ASU with a bachelor's of science in biology. She has been accepted to continue her education at Albany State in the Bachelor of Science in Nursing Program. Vanessa has overcome many obstacles to achieve her nursing degree, including a cancer diagnosis. Upon licensure, she has been offered a position in the Oncology Unit at Phoebe Putney Memorial Hospital.
What motivated you to learn more about your field?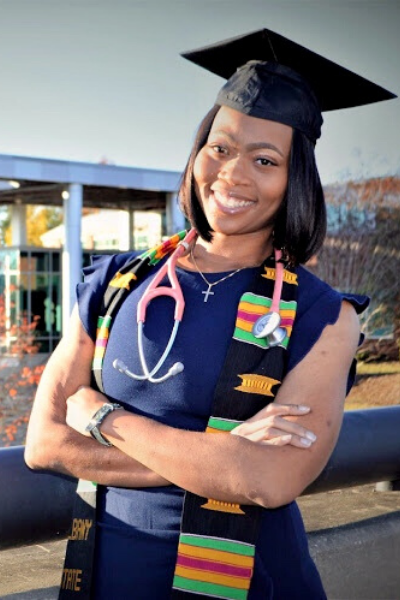 During my sophomore year with my first bachelor's degree I was diagnosed with Ovarian Cancer. After thinking this entire time that I want to be a doctor, life has a funny way of changing things around. Unfortunately, after several rounds of chemotherapy, blood transfusions and hospital stays I cannot remember not one doctor that cared for me, other than my Oncologist of course. However, I remember EVERY single nurse that I came into contact with.
Why did you choose ASU?
I chose ASU because I received my first degree from here in 2012 and the professors in that program were awesome, so I wanted to see what the Nursing Department offered.
What do you love most about your chosen profession?
I absolutely love the hands-on care. The fact that I am honored to take care of someone when they feel at their worst or even to be an advocate for the patient that just doesn't necessarily understand what's going on with their health is truly satisfying.
Who has made the biggest impact on you and who do you consider to be a role model at ASU?
Although I have had many outstanding professors I would be lying if I didn't say that I would not have made it through this journey without Dr. Wanda Allen. From day one, when I began this journey through the nursing program, she has never left my side. Even when I gave up on myself, she didn't allow me to. I cannot put in words how much I appreciate that amazing woman. Dr. Allen holds a special place in not only my heart but my family also.
What are you passionate about outside of your education?
I am truly passionate about helping people. I love helping people realize their true potential and making them the best them that they can become.
What advice would you give to other ASU students?
The more touch put into your college experience, the more than you will receive. Working hard from the beginning eliminates procrastination, excuses and ultimately mediocrity.
Why would you say to a high school student about choosing ASU to further their education?
If you are looking for a school that will ultimately give you the tools for success along with professors that rally around you and truly care about your success then ASU is the school for you. Best decision I ever made!