ASU a 'calling' for President Marion Fedrick
Background helped prepare new ASU president for duties of her office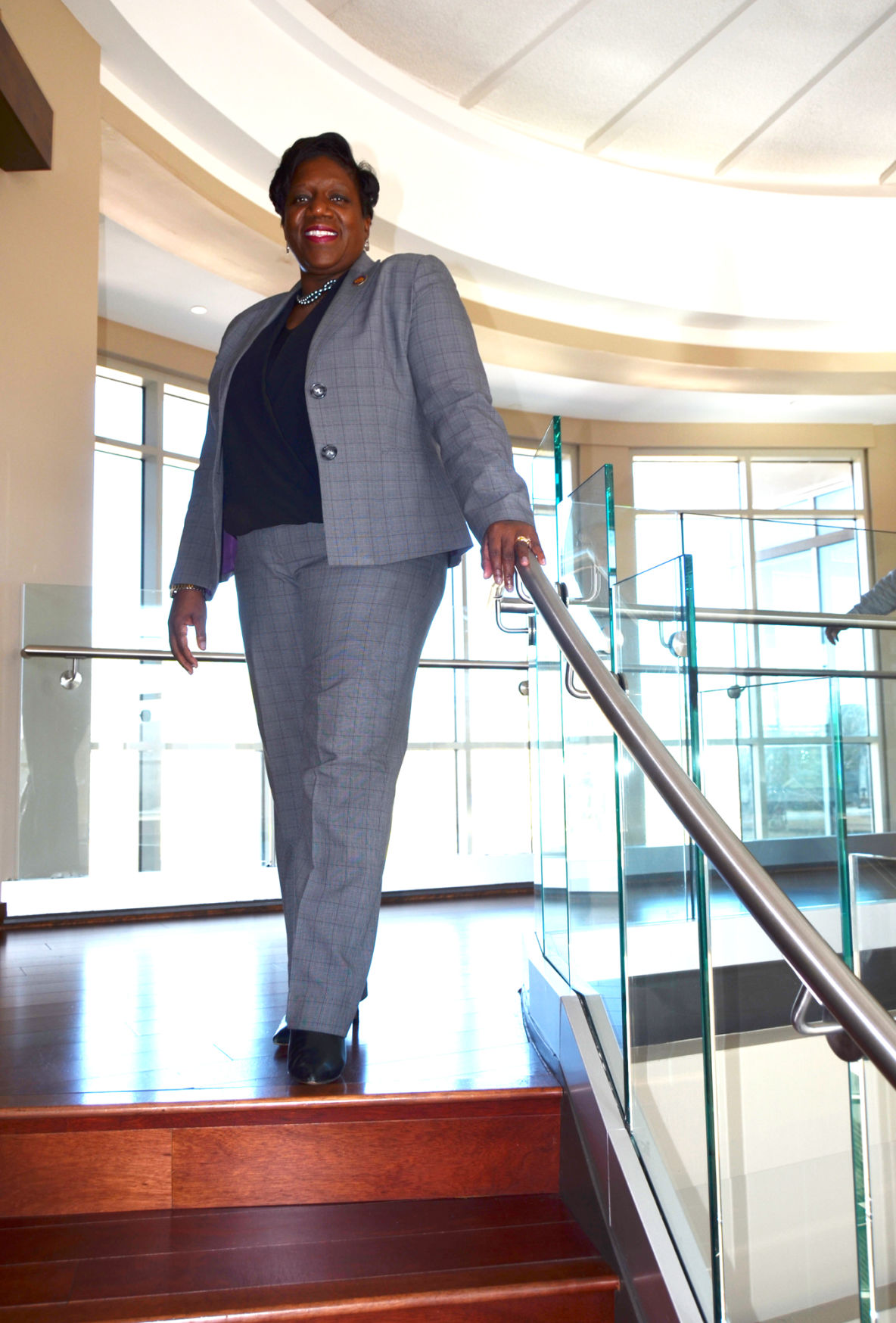 Marion Fedrick was sworn in as Albany State University's president on Sept. 1. (Staff Photo: Carlton Fletcher)
By Carlton Fletcher
ALBANY, Ga. – Doubters might scoff at the thought that 12-year-old Sarah Fedrick has one-on-one conversations with God from time to time. These are, after all, cynical times.
But cynics won't convince Sarah's mom, Albany State University President Marion Fedrick, that her daughter hasn't been blessed with some kind of prescience. After all, Marion Fedrick's got first-hand experience.
"When I was serving as interim president early during my tenure at Albany State, I went into Sarah's room and she had a box that sat underneath a sign she'd made that said, 'Going to Albany,'" Fedrick said, smiling broadly at the memory. "These were some of her favorite things and I asked her why she was setting aside things for the (usually weekend) visits she and her dad would make to Albany while I was there. She said, 'No, mama, we're moving to Albany.'
"I couldn't convince her otherwise."
Sarah Fedrick had surprised her mom a few weeks previously when, while sitting in the back seat of the family car and apparently paying no attention to her mother's phone conversation with then ASU President Art Dunning about the qualities of the next president of the university, Marion Fedrick felt her seat vibrate. She looked back at her daughter to see what was going on.
"She's pointing her finger at me, saying, 'You, you, he's talking about you, mama,'" Marion Fedrick says.
And, there was that time six years earlier, only hours before Horace Fedrick, Marion and Sarah were to leave for Detroit to start a new life after Marion accepted a job at Wayne State University.
"We were picking up one of Sarah's friends, and when Horace got out of the car, Sarah said to me so matter-of-factly, 'We're not moving to Detroit, mama. God wanted me to tell you,'" Marion Fedrick said, a touch of awe in her voice. "When Horace got back in the car, I told Sarah to tell him what she'd told me, and she said, 'God didn't tell me to tell anyone else but you.'"
The Fedricks, of course, did not move. There were family issues to attend to, so dad Horace stayed on at his position as chief investigator with the Atlanta District Attorney's Office, while Marion remained at her post as vice chancellor with the University System of Georgia. And the stage was set for the Philadelphia-born, seventh child of 10 who'd one time dreamed of being a judge to become, of all things, a university president.
"That's certainly not something I aspired to," Fedrick said, laughing. "In fact, I actually had the nerve to think that my position with the University System was my 'retirement job.'"
As the pieces gradually fell into place, clearing Fedrick's path to the Albany State presidency, it quickly became clear that she was the right person at the right time for the job. Then executive vice chancellor (and current chancellor) Steve Wrigley, one of her most ardent supporters, publicly said as much. But the path to the ASU presidency was certainly a circuitous one.
Excerpt from the Albany Herald - Read More
###
Follow Albany State University on Twitter and Facebook @AlbanyStateUniv.