Student Spotlight: Erica Harris-Henderson
Erica Harris-Henderson
ASU Senior Social Work Major
Service Coordinator and Forensic Interviewer, Pataula Center for Children
Erica Harris-Henderson, from Blakely, Georgia, is a third-generation ASU student. She is also a senior majoring in social work (minor in addictions counseling), a mother, and an emerging social activist and humanitarian. She is a member of the Albany State chapter of the Student Social Work Association.
Harris-Henderson serves in a number of servant-leadership capacities in Southwest Georgia such as Chairwoman of the Board of Family Connections in Early County and Vice President of the Richard Allen Young Adult Council at the Historic Wesley Chapel African Methodist Episcopal Church. She is the founder of Connected Hearts, Incorporated, a non-profit organization committed to providing assistance to single mothers. This year, she was nominated as a Rural Leader Magazine 40 under Forty nominee.
What motivated you to learn more about social work?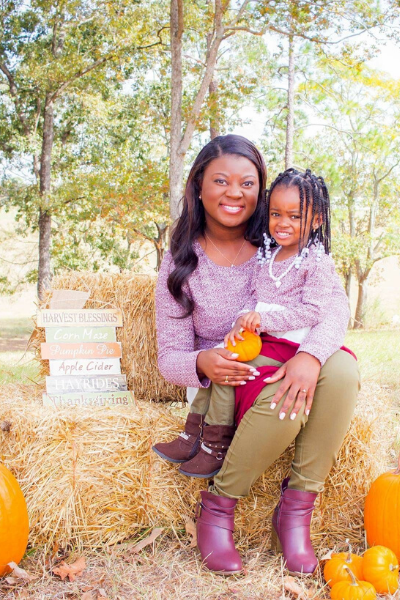 I chose social work as a major because everyone MATTERS! Everyone, regardless of their current economic or social class, is deserving of someone to fight for them. Through collaboration with other agencies, social workers are able to network and find resources for those in need. Through the field of social work, I was motivated to become more involved in my community. I love advocating for at risk populations. These are the people who feel as if they don't have a voice.
Why did you choose ASU?
My family members are proud supporters of HBCUs. My great grandmother, Charlie Mae Webb-Harris, graduated from ASU in 1954 with a bachelor's in elementary education. Charlie Mae's son, John R. Harris, graduated from ASU in 1949 with a B.S. in education and also pledged Alpha Phi Alpha, and his two daughters Nellie Harris ('50) and Annette Harris ('57) graduated from Albany State.
Tell me about an internship or leadership role you have participated in and what that was like for you as a college student.
Through the Early County Community Involvement Association, I have helped plan and execute various voter registration drives. As a college student, I am able to educate people I come in contact with on the importance of everyone voting.
Who made the biggest impact on you at ASU?
I am thankful for the many professors who help motivate and encourage me. Dr. A. Gibson has been influential in sharing the knowledge she has and encouraging us to pursue our MSW. Dr. Page lectured constantly on the importance of having social workers in the community and in leadership positions to help make decisions for the at-risk populations. Dr. Nowak and Dr. Furro are always willing to lend a hand or ear to any student who needs it.
What are obstacles you've had to overcome to progress as a college student?
One of the most challenging obstacles I have overcame is giving up. I am a mother to Millie, a 5 year-old. There are days when I feel as if I am overwhelmed, but I have an amazing support system who step right in and help with my daughter. I also have professors who recognize when I am overwhelmed and call me in their office just to chat. This may be small to some, but to me, this is why I bleed blue and gold!
What is one thing you wish you would have known or could have done differently while attending ASU?
One thing I wish I could have done differently was enrolling at Albany State sooner. Professors here are education driven, but they are also focused on each individual student and ensuring they succeed.
What advice would you give to students with an interest in social work or at ASU?
Follow the interest. The field of social work is very broad and extends far beyond working at the Department of Children and Family Services.
You were nominated as a nominee for Rural Leader Magazine 40 Under Forty. Why were you nominated and what did they feel like?
I was nominated because of my community involvement. Although I don't do anything for accolades, it feels great knowing others are noticing my efforts within the community.