ASU Student Spotlight: Christine Nnyamah, Chemistry major
ASU Student Spotlight: Christine Nnyamah, Chemistry major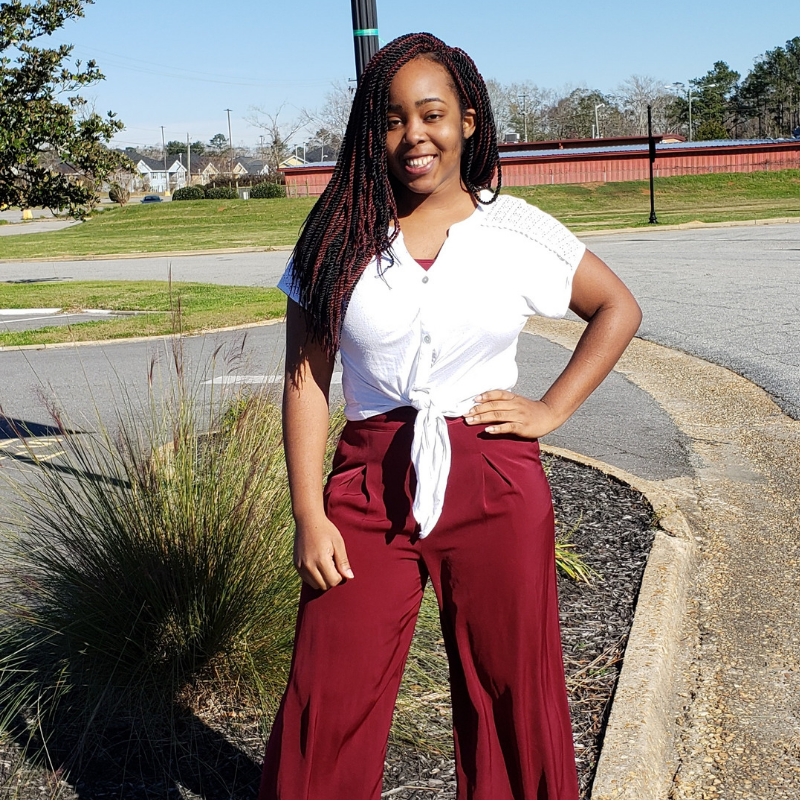 Christine Nnyamah
Christine Nnyamah, from Abia State, Nigeria is a senior chemistry major. She is a member of the ASU Velma Fudge Grant Honors Program, ASU Pre-medical Students Society, Minority Association of Pre-medical Students, Mathematics Engineering Science Achievement organization (MESA), Phi Theta Kappa International Honor Society, Sigma Kappa Delta Honor Society, ASU Southeastern Model African Union Delegation and the ASU Office of International Education's Project: Demystifying Africa. Her list of accomplishments include:
Honorable Mention Black Doctoral Network Research Presenter (2018)
New Century Scholar for the State of Georgia (2017)
ASU Outstanding Scholar (2017, 2018)
All Georgia Academic Team Member (2017)
Honors Program Sage Award (2017)
Outstanding Leadership Award at the Southeastern Model African Union (2018)
ASU Foundation Scholarship Recipient (2017, 2018)
Why did you choose Albany State University?
Albany State University offered me the chance to stand out in my field in a way that I would not have if I had chosen to go to a larger school. I intended to transfer to a larger school after I received my associate's degree in May 2017, but a meeting with Dr. Nneka Osakwe (Director of the Office of International Education) and Ms. Sue Balch (Former International Student Advisor) changed my mind. Those women took the time to discuss all the opportunities for hardworking students at the University.
I love that ASU has a small faculty to student ratio. It gives me the feeling of being a part of a community, rather than just a number or a name on a piece of paper. I love that my professors are always available to help when I have a problem. I also love that the administrative members are very accessible. It is possible for a student to easily reach the University President. That is probably my favorite thing about ASU. It definitely made me stay when I wanted to leave.
What do you like the most about your chosen field?
You can literally do anything with knowledge of chemistry and the elements. It is amazing. I also love how tied into nature chemistry is. A large part of chemistry deals with trying to understand most of what nature has given us. It amazes me and I see God's world and his work a bit clearer every time I leave a chemistry class. It really could go on forever.
What has been your favorite experience at Albany State University?
There are two experiences that stand out for me. The first is definitely my first homecoming. It was awesome! There is so much excitement in the air around homecoming. The Marching Band caught my attention, but what really got to me was seeing so many people come together to celebrate. It was beautiful.
The second was a worship night for the BCM (Baptist Collegiate Ministry). We just started doing worship nights on the east campus and, though I cannot remember which one it was, I remember walking in and hearing the gospel choir singing their hearts out.
What are your goals in life?
I plan to earn my Ph.D. in chemistry with a concentration in medicinal chemistry. Afterwards, I plan to go to medical school, hopefully at Johns Hopkins University to become a neurosurgeon (I aim to be a physician-scientist).
My PhD research will focus on natural products, specifically extraction; purification and commercialization, of natural products to fight common diseases and help with common allergies. I am tired of the big pharmaceutical companies charging exorbitant prices for medication that saves lives when the drugs really don't cost that much to manufacture. I hope to find a very simple synthetic pathway, so I can help get the naturally sourced medicine to people who need them for as little money as possible.
Any profits from this research, along with capital raised through sponsor support and my personal income as a neurosurgeon will go towards opening a foundation that provides financial assistance to students from underdeveloped countries studying in the United States. I know what it means to have no money and be willing to work for your money but not be able to because of legal restrictions.
Tell me about the PhD programs you have been accepted to.
I was recently accepted at both the University of Notre Dame and the University of Illinois at Chicago for the doctoral chemistry programs. I am ecstatic. I was blessed with full funding and generous stipends for both programs. These programs have reputations for producing top notch scientists. Both schools have excellent facilities and are home to researchers of incomparable character.
I chose to apply to these programs while working under Dr. Liqiu Zheng at ASU. She is an amazing woman! She never withheld praise and told me that I would be an excellent graduate student. This encouragement, along with growing love for the research process and curiosity about certain phenomena, led me to search for programs that would be a good fit for me.
Who has made the biggest impact on you while at Albany State University?
There are so many people who have helped me while at ASU. I have had some wonderful professors along the way and every single one of them has taught me different lessons.
I am especially thankful to Dr. Zheng for choosing me to work for her and giving me the opportunity to discover hidden potential. I am also immensely thankful to Ms. Sibley in the Office of Chemistry and Forensic Science for her love, prayers and willingness to help every single student through every single problem. I am also thankful to Dr. Philip Husain who, after teaching me organic chemistry for two semesters, has remained a steadying hand in times of hardship and confusion. I would be remiss if I did not mention Mrs. Kenyatta Johnson, everyone at the Office of Institutional Advancement, the ASU Foundation and the Darton Foundation. Honestly, getting to this point in my journey through ASU has been the work of the entire community.
What advice would you give to other students to pursue their dreams?
My advice is very simple. Never be afraid to ask questions or ask for help. The worst people can do is say no. Asking for help does not make you any less than what you are. It only opens up doorways that you didn't know existed.
Always be on a quest for betterment. Do not be afraid to put yourself out there. Yes, there will be rejections, but you must learn to roll with the punches and get back up every time. It's not easy. Life is not easy, but you would not be where you are if God did not want you here, so get up and get moving and, if you get lost, don't be scared to ask for directions.
###
Follow Albany State University on Twitter and Facebook @AlbanyStateUniv.