Study Abroad in India


Language & Nursinge in India
Your Journey Starts Here - May 28 – June 25 2019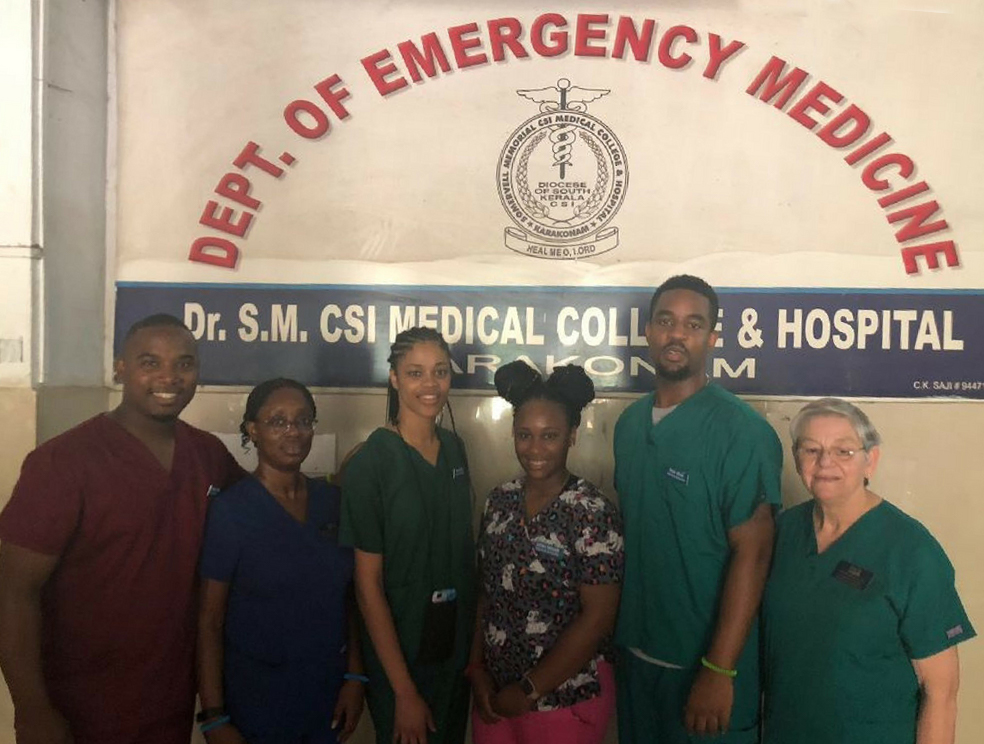 About The Program
Nursing Across The Globe
ASU's Department of Nursing hosts a four-week study abroad program at Dr. Somervell Memorial CSI Medical College and Memorial Mission Hospital of South India. The college, located in Karakonam village, has provided medical care and education for its small community for 20 years. Students get to experience enhanced clinical opportunities and gain greater knowledge of nursing in diverse populations and international settings.
Through your studies and discussions with Japanese students, faculty, and citizens, you'll gain and greater understanding not just of Japanese culture, but your own culture, as well. Albany State embraces cultural diversity, intercultural sensitivity, and communicative competence–all skills which you will develop and hone while immersed in another culture!
6 credit hours: NURS 2601 (Geriatric Nursing) and NURS 4240 (Community Health Nursing)
Visit famous sites like Padmanabhapuram Palace, Kovalam Beach, and Vadakkunathan Temple
Work with local the host institute's doctors, nurses, and patients for an unforgettable experience that you won't find in the U.S.!
A Word From The Professor
Prof. Jan Rodd, Nursing In India Program Coordinator
In the November 1984 issue of the Albany Junior College Report, I wrote of my first experience in India.
"During the two weeks of extreme stress, including a bomb scare, and while working under primitive conditions, we were able to reflect on the real reasons we chose the medical field as a profession. It all boiled down to the fact that we all really cared for people and wanted to help them in whatever way we could. For me, the trip provided a great challenge and required me to utilize my basic nursing skills and the nursing process daily with strong emphasis on teaching. The small part I gave was returned many times over by the Indian people."
The bomb scare was a tin of biscuits left unattended on a counter. The trip changed my life in so many ways. I have been serving the poor and underserved for over 35 years. There have been no regrets and I look forward to sharing this life changing experience with many of you.
More Details
About The Course
NURS 2601: Introduction to Geriatric Nursing
This course is designed to enhance the knowledge of nursing students regarding nursing care of the aged client. The coursework and clinical objectives will also focus on the multicultural aspects of the aging population. Discussions and assignments will utilize various cultural groups, including their differences and similarities.
NURS 4240: Community Health
This course is designed to assist the student in acquiring knowledge of the roles and responsibilities of the professional community health nurse. Within this course, the student will focus on resources available within the community and have the opportunity to apply skills and concepts of nursing and community health to individuals, families, and the community.
This program is limited to 10 participants. ASN, BSN, and RN-BSN students may apply. Please contact one of the program coordinators for specific information.
Price, Contacts & Deadlines
$4,900
This price includes airfare, lodging, transportation, meal stipends, company visits, and cultural excursions.
*does not include tuition or transportation from Albany to Atlanta
Payment Schedule
| Date | Description |
| --- | --- |
| October 15 | $100 early application |
| November 18 | $200 regular application |
| November 30 | $800 installment |
| December 31 | $800 installment |
| January 30 | $800 installment |
| February 28 | $800 installment |
| March 31 | $700 final installment |
Deadlines
Contact
Professor Jan Rodd
jan.rodd@asurams.edu (229) 500-2343
Dr. Donyale Childs
dbouie@asurams.edu (229) 500-2323
Study Abroad Adviser
internationaleducation@asurams.edu (229) 500-2021
Events
Study Abroad Events
Event
Description
East Campus Study Abroad Fair
August 29, 11a-3p
Student Center
West Campus Study Abroad Fair
August 30, 11a-3p
Student Center
East Campus Scholarship Workshops
2-175 Student Center
September 5, 12:00 - 1:30
September 26, 1:30 - 3:00
West Campus Scholarship Workshops
C-203 Student Center
September 12 12:00 - 1:30
September 19, 1:30 - 3:00
Passport Caravans
West Campus Student Center
September 19, 11:00 - 1:00
East Campus Student Center
September 26, 11:00 - 1:00