ASU Commencement Spotlight: Myeshia Jackson, Bachelor of Science Degree in Biology
Myeshia Jackson, Bachelor of Science Degree in Biology
FUTURE PLANS: 2nd LIEUTENANT, U.S. ARMY
Myeshia Jackson, an Albany native, will graduate on May 8 with a Bachelor of Science Degree in Biology. She is a member of the ASU Reserve Officers' Training Corps (ROTC) and Minority Association of Pre-Med Students (MAPS). She has volunteered as a member of the Color Guard, for the Snickers Marathon, and the Samaritans Purse, and is passionate about her faith as a member of Directly Connected Christian Center. Myeshia has secured a position as a 2nd Lieutenant in the U.S. Army, serving as a quartermaster.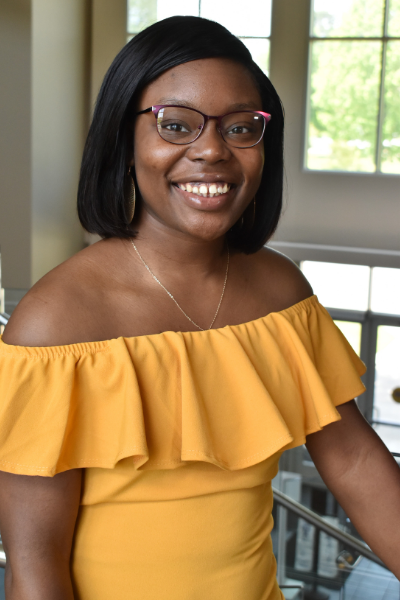 What motivated you to learn more about your field?
I aspire to be a physician assistant and wanted to better understand by being a biology major.
Why did you choose ASU?
I needed safety and convenience; ASU offers faculty members who are kind and understanding, along with having less expensive fees.
What do you love most about your chosen profession?
I love the idea of being able to help serve my country, and I also love the idea that my career has security and opportunity.
Who at ASU has made the most significant impact on you, and who do you consider to be a role model at ASU?
Dr. John Williams is my role model. Dr. Williams has been very motivating, and I love that he provided me with a club to join that allowed me to speak to other physician assistants. He offered many seminars that gave me access to medical school information.
What advice would you give to other ASU students?
Never lose faith in who you are and the potential that you have. At ASU, there's always room to grow so put in your best.
What would you say to a high school student about choosing ASU to further their education?
Select ASU because ASU offers opportunity, kindness and ASU is less expensive than many other universities; ASU is a university that provides higher learning and opportunities through scholarships and internships, all at a lower price.