Student Spotlight: Thuto Ramafifi
Thuto Ramafifi, hailing from Gaborone, Botswana, is a senior business major. She is on the Albany State University Soccer team and volunteers with the Sherwood Grassroots Soccer Program.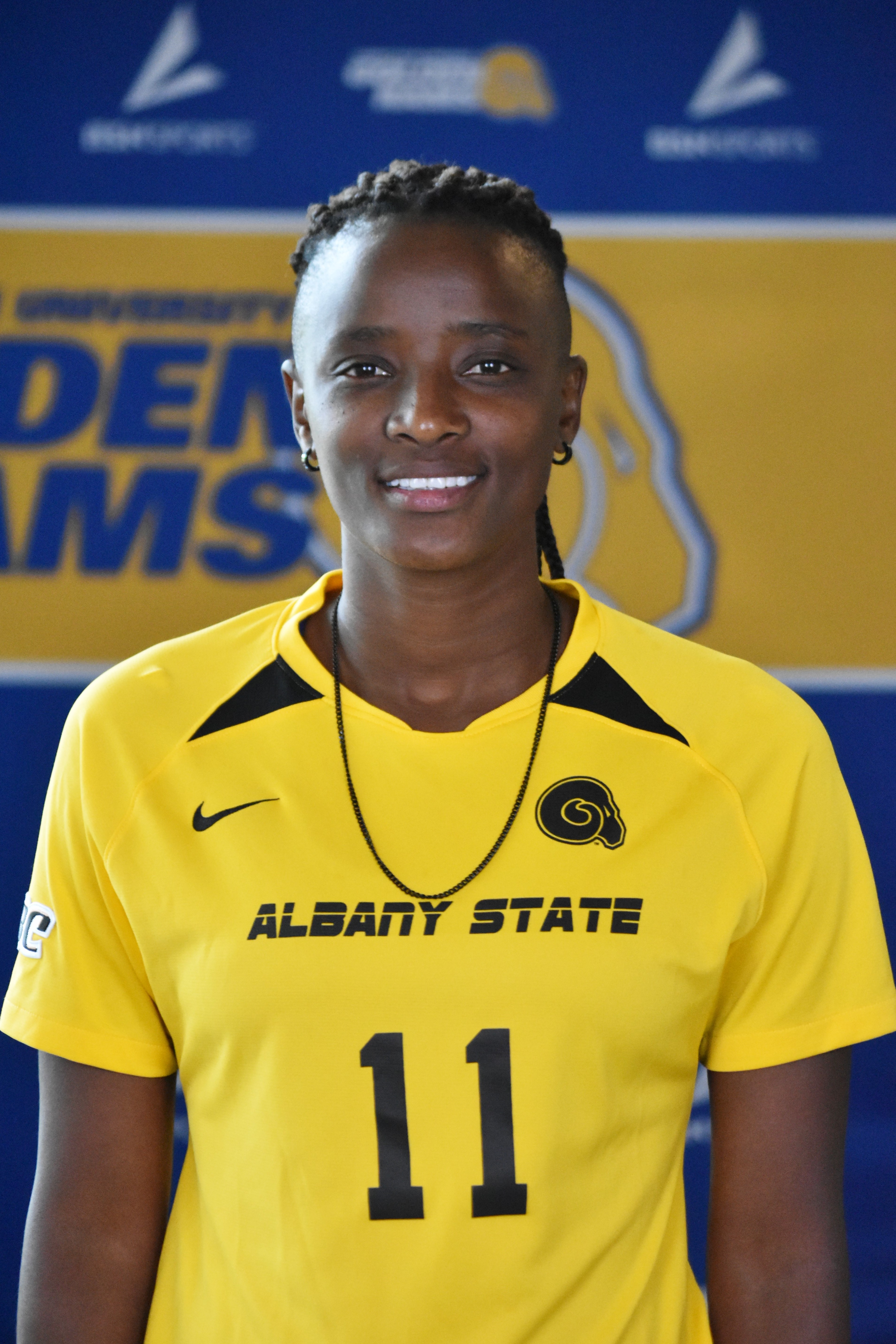 What motivated you to learn more about your field?
My interest in my field was solely based on soccer. Going to college was never a part of my plan. I did not plan for school because of the ego I had towards my athletic talent. Fortunately, everything does not always go according to plan. I was never offered a good deal to play professional soccer and even worse, I suffered an injury that almost ruined my whole soccer career.
After my injury, praying became a part of me, and I started dreaming of things beyond a professional soccer career. One day, I received a call from one of my closest childhood friends, McDonald, who made everything possible for me to get a second chance in life. That's when I met Coach Kennedy Kabiru, who was my recruiter and later my soccer coach at Salem University, then at Albany State University.
Coach Kabiru asked me a lot of questions about my personality, habits, and interests. I told him that I dreamed of becoming a professional soccer player, and how my injury made that almost impossible. I even revealed to him that I planned to use the salary from my professional soccer career to pay for my studies while obtaining an online degree. He was very wise and said to me, "Based on what you have told me, I think you should consider continuing your studies and playing for now. Later on, maybe you can think of other things when you have completed your degree in the US. You will be able to kill two birds with one stone." He offered me an athletic scholarship to study Human resource management at Salem and I jumped at the opportunity.
Coach Kabiru was granted the opportunity to coach at Albany State University and I followed. When I arrived at ASU I made a choice to try another field of study after discovering a lot of the opportunities I could be afforded in the field of Management Information Technology.
What do you love most about your chosen field?
I love that my field has a wide market and pays really well.
Why did you choose ASU?
ASU is a great school with awesome education opportunities. It is HBCU oriented so we all feel as one. Also, the soccer and educational facilities are the best and have a wide range of opportunities.
What motivated you to join ASU's women's soccer team?
At ASU the weight room, practice, and game fields are always open for players to better themselves. I always remember "a good athlete does not need to wait for the coach's whistle to improve themselves."
Who at ASU has made the biggest impact on you and who do you consider to be a role model at ASU?
Those that have made the greatest impact on me and have become my role models are my teammates, my coaches, my professors, and myself. My teammates always push each other to try and never give up. My coaches always provide the team with room to express our talents without giving up on us, even when we were at our lowest. My professors for providing flexible study guides and treating everyone fairly because they believe in us. Lastly, myself because of how far I have come in life. I always give my best no matter the outcome.
What are you passionate about outside of your education?
I am passionate about helping people.
What advice would you give to other ASU students?
There is no point putting so much effort into something and not having the desire to be the best at it. To imagine it all… the feeling of succeeding in your exams, your proud parents and friends, your future career. Fight for that feeling in everything that you do. Build a good study habit because life gives opportunities to everyone; it is you who recognizes and grabs it. It is you, who ignores and ruins it. This degree might be our opportunity, take advantage of it.
What would you say to a High School student about choosing ASU to further their education?
ASU has it all with a very flexible education program and professors who make it possible to achieve goals. Do not wait, run to ASU!