ASU Commencement Spotlight: Sabrina Netters, Bachelor of Science Degree in Computer Science
Sabrina Netters, Bachelor of Science Degree in Computer Science
FUTURE PLANS: SOFTWARE DEVELOPER, INTERNATIONAL BUSINESS MACHINES CORPORATION (IBM)
Sabrina Netters, an Albany native, will graduate on May 8 with a Bachelor of Science Degree in Computer Science. She is a member of the Velma Fudge Grant Honors Program, Association of Computing Machinery (ACM), and Collegiate Women of Empowerment (CWOE). She also volunteered at the ASU-NASA summer camp, the Snickers Marathon, and the Boys and Girls Club. She is passionate about music, playing the viola, and spending time with her mother, gardening. Sabrina has accepted a position as a software developer at International Business Machines Corporation (IBM).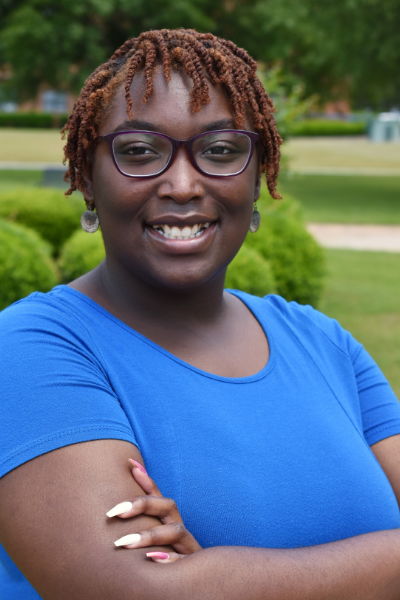 What motivated you to learn more about your field?
I was interested in computer science because my older sister was pursuing that field while she was in the Navy. She talked about how interesting doing IT is, and how amazing she was at it, so I wanted to be just like her. I researched more about computer science and learned about all the different careers and fields you can enter in to. It is also an extremely helpful and vital career in this day and age. With a computer science degree, you can work in the technology field, the medical field, academics, work for the government and so much more. Because of how interdisciplinary it was, I became more interested in the field and all I can do with it.
Why did you choose ASU?
My initial plan was to attend ASU for two years, then transfer to a larger university, like Georgia Tech. This was my plan because I wanted to start school locally before going far off to college. I ended up staying the full four years because of the people I met and the friends I've made. I really like the family feeling ASU has and how it helps students succeed and find promising careers.
How did ASU prepare you to succeed after matriculation?
ASU helped prepare me on how to manage my time wisely and how to engage and network with people. I had to balance my classes, social life, and out of class activities. Classes like public speaking taught me how to engage an audience. By building mentorships with my professors and career services, I was able to attend different conferences, such as the Morehouse Symposium, the Fintech Career Fair, and even a W.E.B. DuBois Panel in Berlin, where I networked with employers or presented a speech or project.
What do you love most about your chosen profession?
I love how much you can do and impact the world with this profession. I can go from working on the mainframe to developing apps to working with artificial intelligence. You are always learning new things so it won't get boring. Also, it pays pretty good money.
Who at ASU has made the biggest impact on you and who do you consider to be a role model at ASU?
It would definitely have to be Dr. Florence Lyons, the director of the Velma Fudge Grant Honors Program. It was her who introduced me to different professors and research opportunities. It was guidance and motivation that helped me get my first internship, which was at Carnegie Mellon University. Thanks to Dr. Lyons, I became more confident in my skills, especially my communication and presentation skills. I truly can't thank her enough for all that she's done for me and many other students her at ASU.
What advice would you give to other ASU students?
My advice to other ASU students would be to join organizations to meet fellow students and others who enjoy your interests, and to definitely network and form mentorships with your professors. You can start by talking to a professor you enjoy, and ask them about projects they're working on, or if there are any opportunities out there for you. Forming mentorships with your professors will definitely open the door for a lot of opportunities, activities, and internships. Also participate in research projects to boost your resume, especially if you're in the STEM field.
What would you say to a high school student about choosing ASU to further their education? Choose ASU to further your education if you want that close-knit family feeling and to be surrounded by people who share your experiences. There are people here to help and guide you along the way, and to also make your college experience fun, exciting, and worthwhile. Come to ASU to make connections and network to help jumpstart your career!