ASU Faculty Spotlight: Michael Mallard
ASU Faculty Spotlight: Michael Mallard, Associate Professor of Visual Art
Michael Mallard was recently selected as the Albany Museum of Art's first artist-in-residence, where visitors will be able to see the creative process in action. Mallard is an associate professor of visual art in the College of Arts and Sciences. He earned a Bachelor of Fine Arts Degree at the University of Georgia, and a Master of Fine Arts Degree from the University of Illinois.
He has served as an advisor to the ArtDarton Student Art League, president and board member of the Plains Historical Preservation Trust, secretary and board member of the Albany Museum of Art, and a judge for various art exhibits in the region.
What do you do at ASU and what motivated you to learn more about that field?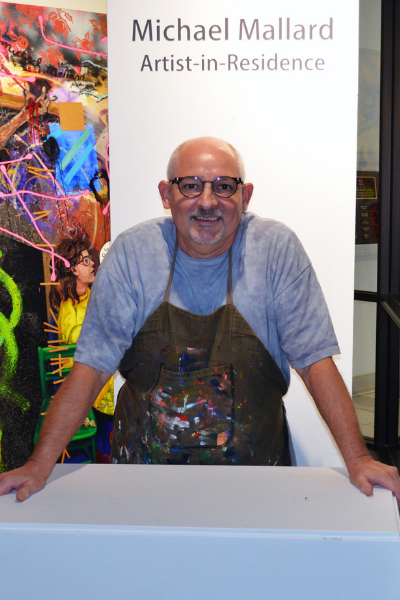 I teach drawing, painting, design, and art appreciation. I have been a visual artist since I was a young boy. I started taking formal painting lessons at the age of 9. Since then, I have never wavered from my desire to become a practicing artist and teacher.
You are the Albany Museum of Art's (AMA) first Artist-in-Residence. Tell us a little about the program and why you are excited to participate.
The AMA's artist-n-residence program has been in planning for several years. I was selected to become the first artist to participate in the program. The purpose of the program is to help practicing artists have a place and time to produce new artwork and allow public interaction with the artists.
My studio at the museum is visible to all visitors, and when I am present working, visitors can watch me paint, ask questions and comment on the work.
The program has invigorated me by encouraging me to produce new work, and I have received inspiration from museum visitors and staff. The future of the AMA Artist-in-Residence Program is bright. Plans to continue the program with multiple artists participating will be evident in the coming years.
Why is it important especially in this community?
The Albany region suffers from a lack of opportunity in the arts. This program is another way that the AMA is trying to engage the public. Every way we can use to reach our public with the arts is a positive step in enhancing our lives in Southwest Georgia.
Why did you choose to work at ASU?
I chose to work at ASU because I live in Southwest Georgia. The art program at ASU continues to get better and better every year. I enjoy being part of a university that is always improving.
What are your responsibilities as a faculty member of the Art Department?
In addition to teaching classes I serve on the Web Design Committee for the department. I am also planning a student/faculty/staff trip to see art in Italy and France in May of 2022.
Who made the biggest impact on you and who is someone you consider to be a role model?
My mom was an artist and an art major in college. She made certain that I was involved in art as I grew up. My maternal grandmother was a great encouragement and an artist with flowers and gardening. I had several wonderful teachers as a child, in high school and in college. My college professors modeled the life of an art professor and practicing artist. Since they have retired, many of them are still working hard at continuing to make art.
What advice would you give students with and interest in your job?
First, I would advise students to be open to learn. Most students enter an art major thinking they have already accomplished what will be taught. This precept can make a student resistant to gaining knowledge from trained artists with experience. The second piece of advice I would give them is to work hard. Practice, practice, practice and practice again. Mastering the fundamental skills to express artistic concepts is essential. Lastly, I advise students to experiment, play around with as many techniques and materials that are available to artists. This is necessary to find the techniques and materials to fit their artistic vision.