ASU Commencement Spotlight: Diandrea Malone, Bachelor of Science Degree in Health and Human Performance
Diandrea Malone, Bachelor of Science Degree in Health and Human Performance
FUTURE PLANS: GRADUATE STUDENT, UNIVERSITY OF SOUTH CAROLINA
Diandrea Malone, a Marietta native, will graduate on May 9 with a Bachelor of Science Degree in Health and Human Performance. She is a member the ASU National Association for the Advancement of Colored People (NAACP) chapter, the Student Athletic Training Aide Program, and she served as president of both the Health and Human Performance (HHUP) Club and the Ancestral Terrace. She worked on sports medicine assessment research for the Center for Undergraduate Research, and as a testing laboratory volunteer. Diandrea is passionate about community, serving as a volunteer in the community garden, the Early Learning Center and the Disney Marathon. She was also involved with efforts to educate the community on better nutrition habits, being more physically active, and finances. She has been accepted into the athletic training graduate program at the University of South Carolina.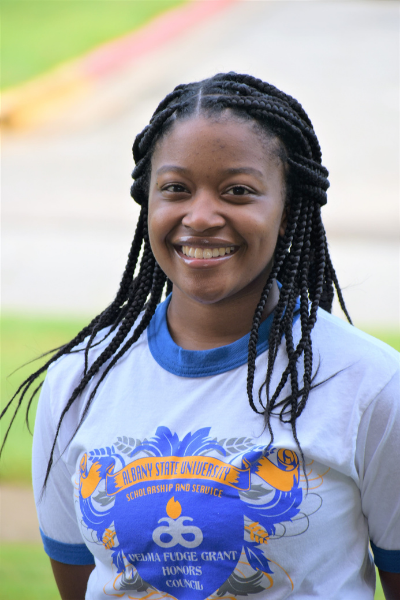 What motivated you to learn more about your field?
As a high school student, I was introduced to athletic training and started working with the athletic teams at my school. After attending a summer camp and further talking with various athletic trainers I was convinced this is how I wanted to serve my community.

Why did you choose ASU?
Albany State University is an affordable university with a homey feel. I loved the idea of attending an HBCU and additionally, Albany is the city where many of my family members reside, so I could still be close to family.
How did ASU prepare you to succeed after matriculation?
Albany State University prepared me for success through an intense and challenging curriculum as well as an on-campus internship. I was able to work with the Head Athletic Trainer at ASU for all three years that I attended.

What do you love most about your chosen profession?
I love the idea that I can use my passion to help athletes continue their passions in playing sports, additionally I do love to watch sports!

What advice would you give to other ASU students?
To my peers and upcoming students at ASU, I would say talk to everyone, you never know what doors can be opened from a simple conversation. Also, get involved; find internships when you're a freshman, start building your resume before your senior year and even if you don't know what you want to do try a lot of things and find your niche.
What would you say to a high school student about choosing ASU to further their education?
If you are looking for a smaller college with a family feeling, ASU is a great school for you. You can get the HBCU experience with great support from faculty and staff whenever you're having trouble.