ASU Commencement Spotlight: Ursula Netters, Bachelors of Science in Marketing
URSULA NETTERS, BACHELOR OF SCIENCE IN MARKETING
FUTURE PLANS: BOEING EMPLOYEE IN ESTIMATING AND PRICING SECTOR
Ursula Netters, an Albany native, will graduate on December 11 with a Bachelor's degree in marketing. She is a four-year member of the Velma Fudge Grant Honors Program and served one year as the Community Service Chair. She is a proud Thurgood College Fund and HOPE Scholar, and participated in the Undergraduate Research for "The Business of Smart Cities: How Technology Can be Used to Improve Energy, Utilities, and Infrastructure."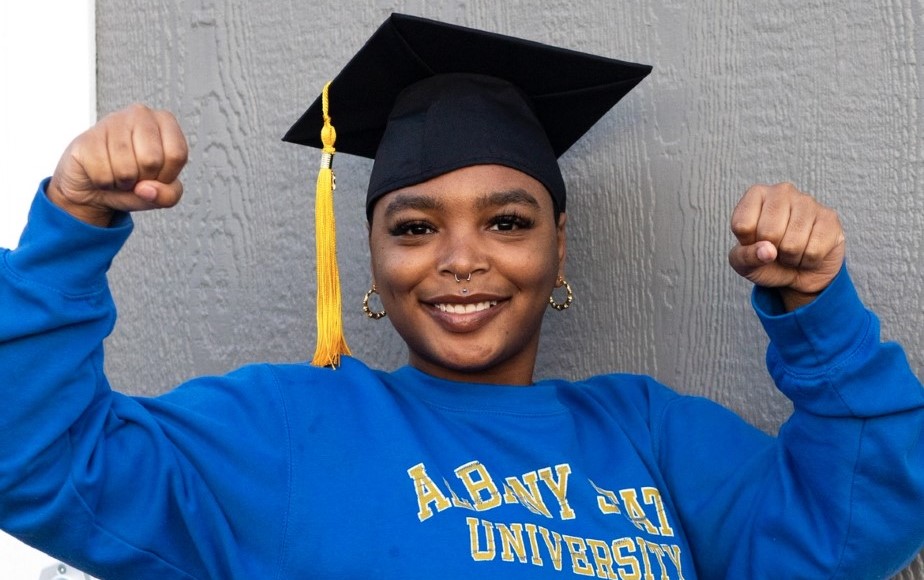 Where have you secured a job and what position?
I have secured a career with Boeing through their Business Skills Rotation Program after completing my time as a Financial C-17 Contracts Intern during the summer. There will be an estimated three rotations within three years before I move on to my next position within the company. My first rotation is in the Estimating and Pricing sector of Boeing.
What do you love most about your chosen profession?
I love the fact that my profession is a great fit for me. It will allow me to work in diverse fields that I am well-versed in while being challenged.
What motivated you to learn more about your field?
Initially, I was interested in gaining skills that would benefit me if I decided to become a certified realtor. I decided to choose a major that would allow me to do this and have other various career options. Eventually, I discovered that I am open to other careers besides those related to real estate.
Why did you choose ASU?
ASU is where my home is. I could gain a full, affordable college experience without inconveniencing myself. I was able to earn my degree while living at home, secure a work-study job, discover various opportunities, save money, stay close to family, and stay comfortable.
Who has made the biggest impact on you and who do you consider to be a role model at ASU?
I have multiple role models who have made an impact on me, and I am grateful for them all. Of course, my family and partner have been role models for me because of their endless love, support, and encouragement. I am immensely proud of them.
Specifically, my sister, Sabrina Netters, has been a role model for me. I have always looked up to her. Throughout her time at Albany State, she strived to put in her best efforts to learn and help others, became well acquainted with her peers and professors, and proved herself to be capable of anything. Upon graduation, she secured a career as a Software Developer at IBM in San Jose, California. She continues to display these attributes and never fails to inspire me. I aspire to possess the same drive that my sister does. I am positive that she will conquer any obstacles in life.
Another person who has made an impact on me is my partner, Woody Lofton. From his journey as an Art student to a photographer for ASU, he has never failed to impress me with his natural talents. His dedication to putting out work that is not only beautiful but also impactful has impressed me immensely. It has also impressed very established names, such as the NBA and the University of Texas. Because of his abilities, he has experienced the opportunity to create art for these establishments. In addition to this, he founded "Corneagraphics" as a skilled photographer. His business continues to thrive and encourages me to never give up. He constantly studies and practices his craft, whether it be art, music, teaching, learning, etc. Overall, his dedication to his craft has inspired me to always find joy in my passions.
Another person who has made an impact on me is my friend, TyJa' Barnes-Jones. We became friends during our freshman year at ASU. From being friends with TyJa', I have experienced—firsthand—how much time and effort she will dedicate to whatever she believes in. I always witnessed her involvement on campus and it is very fitting that she is now the president of the Student Government Association at ASU. She has inspired me through her dedication, advocacy, teamwork, and leadership. I am grateful to have met her during my time here at Albany State University and hope to see her achieve great things in life.
What are you passionate about outside of your education?
Besides being passionate about the people I love, I am also passionate about succeeding. When I put out work, I make sure it is satisfactory to my standards. This is because I believe that your craft is reflective of yourself.
What advice would you give to other ASU students?
I would advise other ASU students to discover opportunities, connect with their peers and professors, go to class, complete work, and participate in extracurricular activities on campus and within the community. College is honestly what you make it.
What would you say to a High School student about choosing ASU to further their education?
ASU is an outstanding choice to further your education. I would advise them to avoid limiting themselves based on their aspirations. It is completely fine to look beyond the horizon because they may discover that they enjoy so much more than what they previously thought.