Alumni Spotlight: Sam Allen
Sam Allen
Director of Emergency Medical Services for Dougherty County
Darton College Alumnus, Sam Allen ('95), graduated from the Darton College for Emergency Medical Services Certification Program. Allen also has a certification from Albany Technical College in EMT Emergency Medical Service. Allen also received diplomas from Albany Technical Institute in Electronic Technology and Consumer Electronics. He currently serves as the Director of Emergency Medical Services for Dougherty County.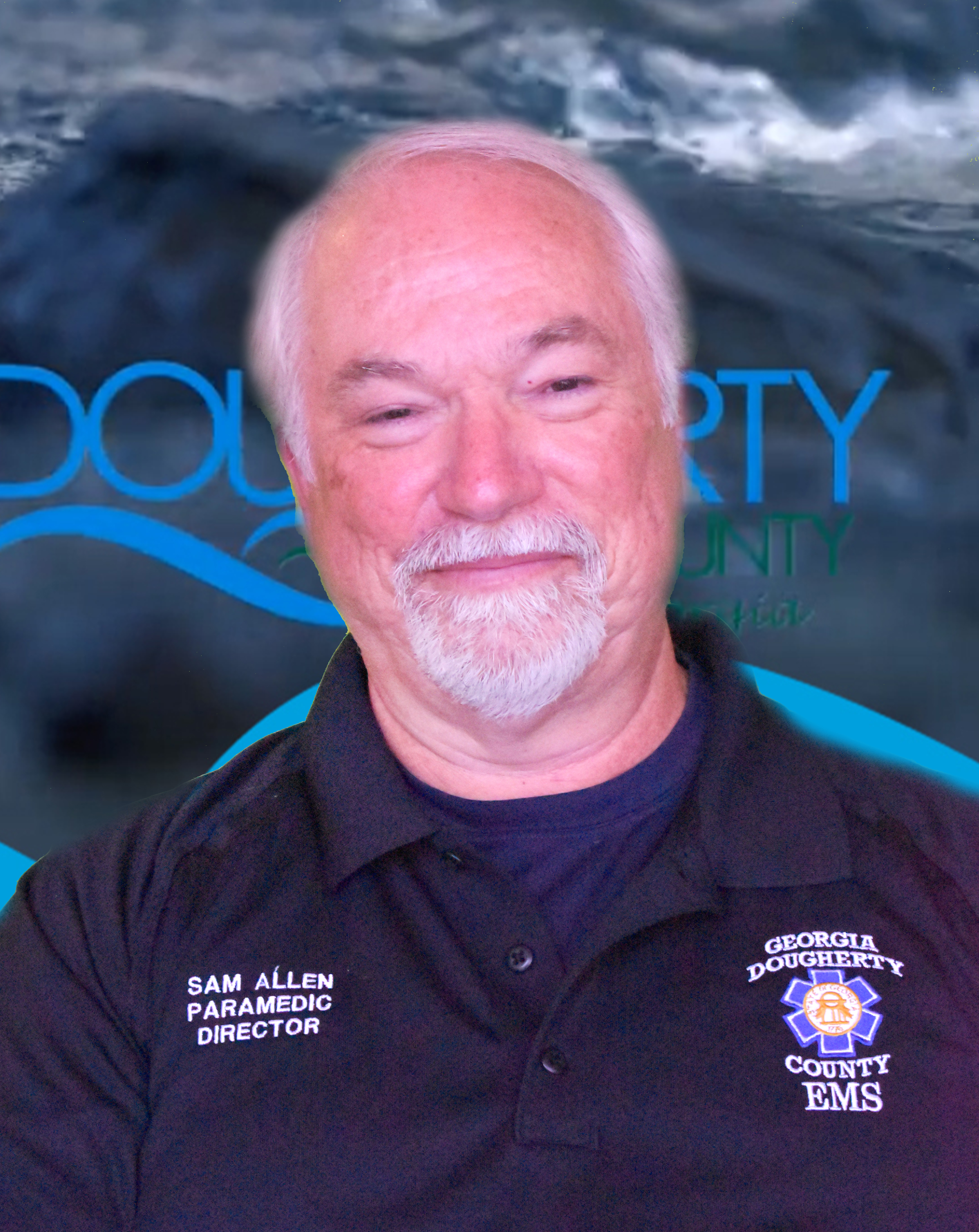 Why did you choose Darton College of Health Professions?
Darton College of Health Professions is known throughout the state as a leader in Paramedic Education. Patricia (Trish) Hotz was a highly motivated instructor that required total dedication to her program. She was able to teach and instruct her students to the highest level of care for Paramedics. This was the most intense college education program that I had ever taken. I can fully credit Trish that once I graduated from her program, I was ready to handle any type of medical or trauma call as a Paramedic for Dougherty County E.M.S.
What motivated you to learn more about your field?
Due to a job layoff, my wife suggested that I consider working in the medical field. This was originally supposed to be a part-time job. My neighbor Bobby Watkins worked for Dougherty County as a paramedic and he helped to get me into the emergency medical field. He was an instructor for EMTs at Albany Technical College. I started as a part-time EMT with Dougherty County EMS, I enjoyed the community interaction and helping citizens in a medical crisis. I attended Darton College of Health Professions and graduated from the Paramedic Program and started my full-time career at Dougherty County EMS in 1993.
What does a typical day look like for you?
Dougherty County EMS operates on a 24-hour shift on-duty and 72 hours off-duty. As the Emergency Medical Director, I have a wide responsibility to the staff of Dougherty County and the responsibility to Dougherty County citizens. I may be working in the office or attending meetings. Depending on the call volume, I may have to leave and start responding to 911 EMS calls holding. I am involved in planning for disaster drills, medical procedure updates, and serving on several boards while overseeing the EMS Operations. COVID-19 has changed Emergency Medical Services in many ways and we have to stay current on CDC and the Georgia Department of Public Health guidelines. The responsibility of the EMS Director is very heavy but working for Dougherty County has been a great choice for me. It is also wonderful to see the fire and passion for EMS in our staff at Dougherty County EMS.
What do you love most about your chosen profession?
I had three individuals that made a huge impact on my medical career at Dougherty County EMS. Bobby Tripp was the EMS Director and he instilled a very high level of professional medical care for Dougherty County EMS. I truly enjoyed working for Bobby Tripp and learning how to make critical management decisions in EMS. Secondly, Bobby Watkins was a mentor on the Paramedic level. Bobby shared his Paramedic compassion and knowledge to teach and mold my career as a Paramedic. It was an honor to ride and work with Bobby Watkins as I watched him provide Emergency Medical Care on so many 911 calls. Lastly, Trish Hotz was able to instill her medical knowledge and mold us into a paramedic that was taught to handle and overcome any type of Trauma or Medical situation. She expected 110% dedication to our educational experience and this helped us to handle the worst of all calls.
What advice would you give other ASU students in the Darton College of Health Professions and other areas of study?
The healthcare field is very short-staffed and we need new people to join it. There is a nationwide shortage of EMTs, Paramedics, Nurses, Physician Assistants, and Physicians. Many Paramedics will bridge over to Registered Nurses and then move toward a Physician's Assistant. The job market is wide open and employers turn to ASU to recruit new applicants. ASU can provide the education and knowledge to prepare its students as they enter the medical workforce.
What would you say to a high school student who has chosen ASU to further their education?
This is a very wise and good decision for a high school student to make for future job planning. ASU has many courses to help a student master their knowledge. If they are entering the medical field, the education they receive will prepare them for their career choice and allow them to become medical professionals. I tell all new hires that I was once in their seat just starting and have never forgotten that feeling. With 28 years behind me, I am now the EMS Director of Dougherty County EMS and I fully enjoy my job and career choice.
Outside of your profession, what leadership roles interest you the most?
My family, I have been married to my wife for 39 years and she is my best friend, we do a lot together. We travel and enjoy our time together since our children have now grown up. Our sons now work in fields that require professional responsibilities. They are leaders in their job positions and I am very proud of them. As I said earlier, I have been blessed with a wonderful spouse and children and a career that I truly enjoy.