Student Spotlight: Sydney Blackburn
Sydney Blackburn, hailing from Florida, is a sophomore health and human performance major. She is a member of the Golden Rams Track and Field team, and she recently placed 12th in the nation in the NCAA Division II Women's Outdoor Track and Field National Championships.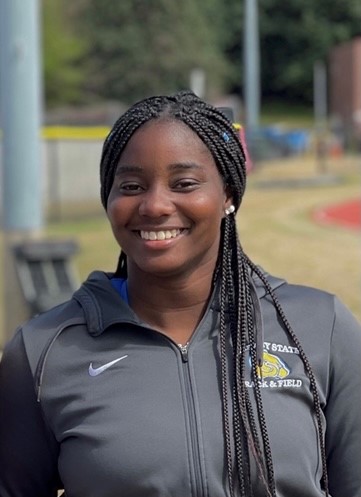 How did it feel placing 12th in the nation in the NCAA Division II Women's Outdoor Track and Field National Championships?
Initially I was disappointed in myself because I knew I could have done better. However, being able to compete against some of the top collegiate athletes nationally as a freshman was an accomplished and proud feeling.
What were a few of the key takeaways from the experience?
Don't underestimate the weather conditions. Seriously, to be prepared for all circumstances mentally and physically.
How did you prepare to compete in the championship?
I had an opportunity to receive one on one daily training from my coaches, which included a strength/weight regimen and lots of practice. The practices where the most helpful because Coach Taylor was able to help me identify and correct techniques needed to enhance my footwork and discus release.
I was also afforded the opportunity to compete in additional track meets which assisted with my mental preparedness, as well as putting my corrected techniques to test. Lastly, with school instruction being over and minimal distractions on campus, I was able to rest and eat more properly.
What was your favorite memory from the experience?
When the announcer introduced me alongside the second flight participants to those in attendance, and I when I actually stepped inside that circle as a national discus contender.
What does it mean to be a Golden Ram student-athlete?
Being a Golden Ram student-athlete requires self confidence; a self-motivated desire to succeed academically and athletically and a sense of pride. You are not only representing yourself and your family, but ASU on and off the field.
Why did you choose Albany State University?
I wanted to attend an HBCU outside of my home state of Florida. ASU offered my major of choice (health and human performance), and lastly my mom is a graduate of Albany State College.
What motivated you to choose your major?
Due to a personal experience that occurred with a family member my senior year of high school, I took a great interest in this field and felt that it was something that I wanted to pursue later on in life.
Who has made the biggest impact on you at Albany State?
It was hard to establish new relationships due to mandated restrictions as a result of the pandemic. However, I must say that Coach Taylor and my track and field family made the biggest impact with my transition away from home and feeling a part of a family.
What advice would you give other students to pursue their dreams?
To stay focused, pursue your dreams for YOU and take advantage of all opportunities extended to you.
What are your goals in life?
My goals in life is to obtain my degree in health and human performance and pursue a career in physical/rehabilitation therapy. I would also love to take my track abilities to the next level if given the opportunity.