Albany State University announces 2018 Provost Faculty Fellow
Albany State University announces 2018 Provost Faculty Fellow




Program contributes to strategic university efforts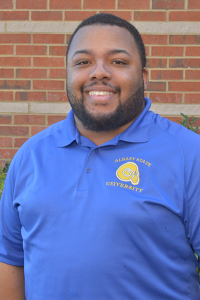 Dr. John L. Williams
ALBANY, Ga. – John L. Williams, associate professor of biology, has been appointed to serve as the 2018 -2019 Albany State University (ASU) Provost Faculty Fellow.

The program identifies faculty members who have shown leadership potential with a focus on advancing skills through opportunities to work on key strategic campus initiatives and priorities. The fellow will serve as a member of the provost's leadership team and will be afforded other leadership development opportunities.

"Dr. Williams' work on behalf of student internship applicants, his selfless support of students in preparation for their MCAT exams, along with his strong interest in fostering greater student engagement and persistence, convinced the selection committee of his commitment and leadership potential," said Raj Parikh, interim provost and vice president for Academic Affairs at ASU.

Williams was selected through a competitive process under the leadership of the provost and vice president for Academic Affairs. In his role as faculty fellow, his duties include serving as the faculty liaison to the Office of the Provost.

"The Provost Fellows Program at Albany State University was developed for faculty who have shown a talent and an interest in leadership," Parikh said. "It is an invitation to experience the challenges and responsibilities of academic leadership while participating in substantive decision making and developing an initiative of benefit to the university."

Since joining the ASU faculty in 2010, Williams has played a major role in developing programs and initiatives for students. Among his many contributions, he has collaborated with both Meharry Medical College in Nashville, Tennessee and Lake Erie College of Osteopathic Medicine in Erie, Pennsylvania on pathway programs for pre-medical students. He has also co-written grants for collaborations with research institutions such as the University of California-Irvine in Irvine, California for undergraduate summer internships.

"I look forward to learning more about the process of leadership and how leadership can be used to advance education quality for future students," Williams said.

Williams currently serves as the program director of ASU's Louis Stokes Alliance for Minority Participation, which promotes graduate and doctoral education for STEM students. Additionally, he serves as the coach for the Honda Campus All-Star Challenge Trivia Team, which has been nationally recognized for the past four years. As an educator, he has been recognized both at the departmental and institutional level for teaching excellence, including being named as Teacher of the Year for the 2017-2018 school year.

Williams received a B.S. degree in biology from ASU and a Ph.D. in cell/molecular biology from Florida State University. His laboratory focuses on general aspects of human and mammalian physiology, as well as invertebrate models of disease.
###

Follow Albany State University on Twitter and Facebook @AlbanyStateUniv