M.A.L.E.S, Project S.T.O.P. host HIV awareness and prevention event
The Project Prevent Block Party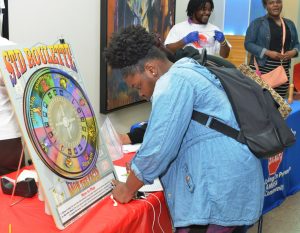 ASU students visited community partner tables at the Project Prevent Block Party to learn more about HIV awareness and prevention resources. Photo credit: Reginald Christian
ALBANY, Ga. – The Project Prevent Block Party was recently held on campus to raise awareness of HIV and inform students of prevention resources. The event was presented by the Men as Advocates for Leadership, Excellence and Success (M.A.L.E.S.) Mentors program and Students Taking on Prevention (Project S.T.O.P.). Free testing and educational demonstrations were available during the event. Community partners also provided students with prevention information.
M.A.L.E.S., formerly known as CAAM, is dedicated to enhancing the collegiate experiences of male students at Albany State. Project S.T.O.P. is a collaborative effort focused on mobilizing the ASU campus and surrounding communities in order to reduce high rates of HIV, HCV, HPV, tobacco and substance abuse among 18 - 25 year olds.
###
Follow Albany State University on Twitter and Facebook @AlbanyStateUniv.