Albany State's Day of Service aids community restoration following Hurricane Michael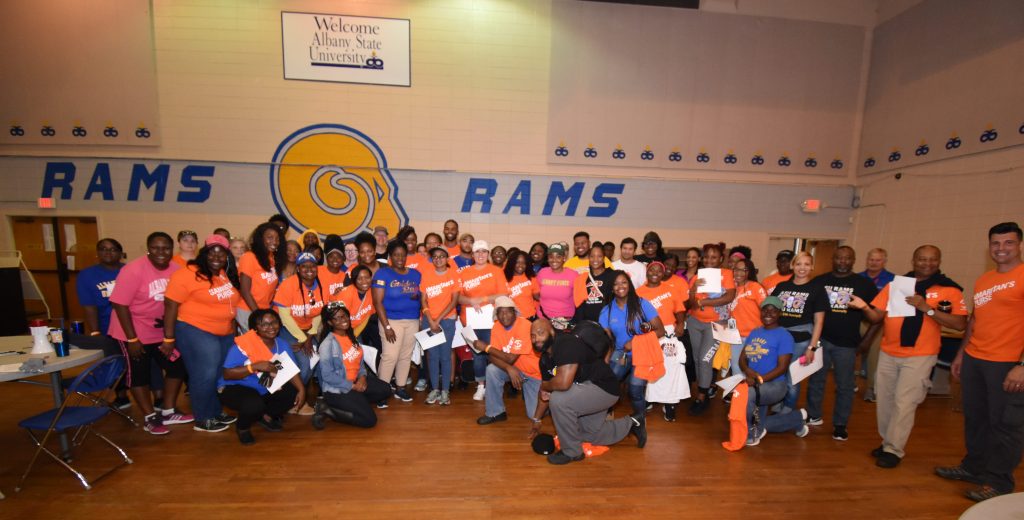 ALBANY – More than 215 people began Albany State University's Homecoming activities, Saturday, a little different than usual – by rolling up their sleeves and participating in community service.
For half of the morning and into early afternoon, ASU faculty, staff, students, alumni and community members gathered for the first ASU Day of Service. The initiative was launched as an opportunity for Golden Rams and ASU supporters to assist with community restoration following Hurricane Michael.
"Requests started pouring in from people that wanted to help," said Patrice Jackson, ASU vice president of Student Affairs. "Students began organizing themselves and alumni and community members starting calling us. We decided to organize one large effort in a way that would be beneficial to our community."
"Being engaged and taking action are important aspects of being a Golden Ram," said ASU President Marion Fedrick. "Our community has gone through a lot over the last two weeks. Some residents are still without power and some are without food. ASU Day of Service is an opportunity to aid some of our local residents and our ASU family because we are all in this together."
The University partnered with Samaritan's Purse, a Christian humanitarian organization that provides aid to people in need, and Keep Albany-Dougherty Beautiful, an affiliate of Keep America Beautiful.
Participants were broken into two teams and traveled to two site locations to assist with clearing debris, chopping fallen trees and more. Marion Brown Ryant, a University staff member and 1985 ASU graduate, brought her family to ASU Day of Service to aid where needed. Other community organizations including T.O.G.E.T.H.E.R. also helped.
"We all were impacted by what happened this past week. I thought this was an opportunity for myself, my daughter and my husband to give back to the community on behalf of our institution," Ryant said.
After quick success at one of the initial sites, students and alumni were asked to help with a third. Although unplanned, the third location was a farm on the outskirts of the city.
"The owner gave everyone hugs. She was so grateful that someone was looking out for her, and thought of her and showed up to help," Jackson said.
Austin Joiner, a junior finance major from Warner Robins, was one of several students from the Student Activities Advisory Board who spent the morning volunteering.
"I was so fortunate to not have major damaged by Hurricane Michael, so I just wanted to get out and help those that were directly impacted by the hurricane and just try to do my part," Joiner said.
The Day of Service, Jackson said, will likely be a part of future Homecomings, in addition to service activities that will be held throughout the year.
"We want to make sure that our students have an opportunity to serve the community in an organized way," Jackson said. "Our students really enjoyed it, and I think our community appreciated it."
###
Follow Albany State University on Twitter and Facebook @AlbanyStateUniv