Albany State University Hosts #MeToo Forum
Albany State University Hosts #MeToo Forum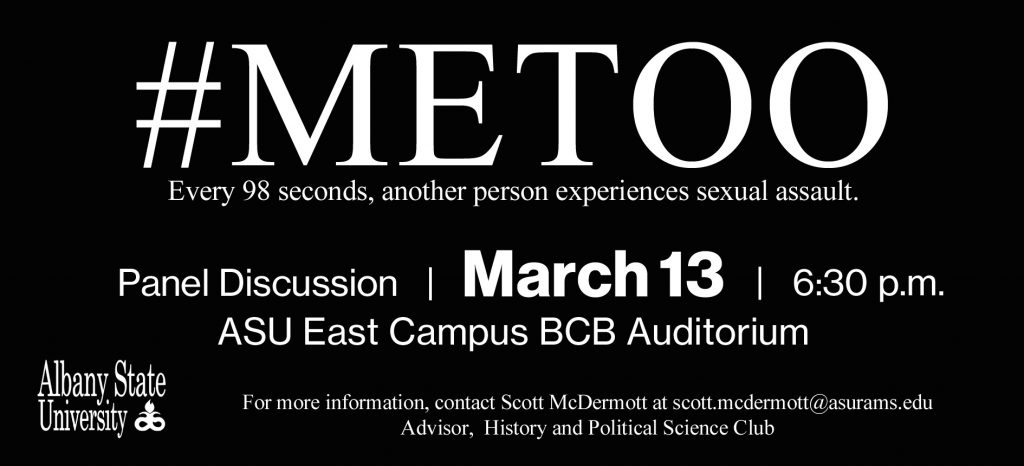 #MeToo Forum Poster
ALBANY, Ga. – According to RAINN Statistics, every 98 seconds, another person experiences sexual assault.
The Albany State University (ASU) History and Political Science club is joining the conversation by hosting a #MeToo forum, Tuesday, March 13, at 6:30 p.m., in the Billy C. Black Auditorium. The panel discussion will assess the significance and future of the #MeToo movement, and promote awareness of sexual assault.
The #MeToo movement has gained popularity in recent months on social media to help demonstrate the widespread prevalence of sexual assault and harassment. What started as a simple hashtag has become one of the leading conversations of today. As sexual assault victims share their stories, women and men are standing up for the cause world-wide.
Confirmed panelists include:
Santee Archer, interim Veterans Affairs grant director, Albany State University
Marcus White, victim advocate at the Marine Corps Logistics Base
Mary Martinez, executive director, Lily Pad Center
Captain Anita Allen, ASU Police Department
Teshaunda Hannor-Walker, Albany therapist in private practice

Cheri Blackmon of the History and Political Science Club will serve as moderator.
Students, faculty, staff, and members of the community are invited to attend.
For more information about #MeToo, click here: https://metoomvmt.org
###
Follow Albany State University on Twitter and Facebook @AlbanyStateUniv.