Albany State Golden Rams face off against Clark Atlanta Panthers for 2018 Homecoming game
Game relocated to Hugh Mills Stadium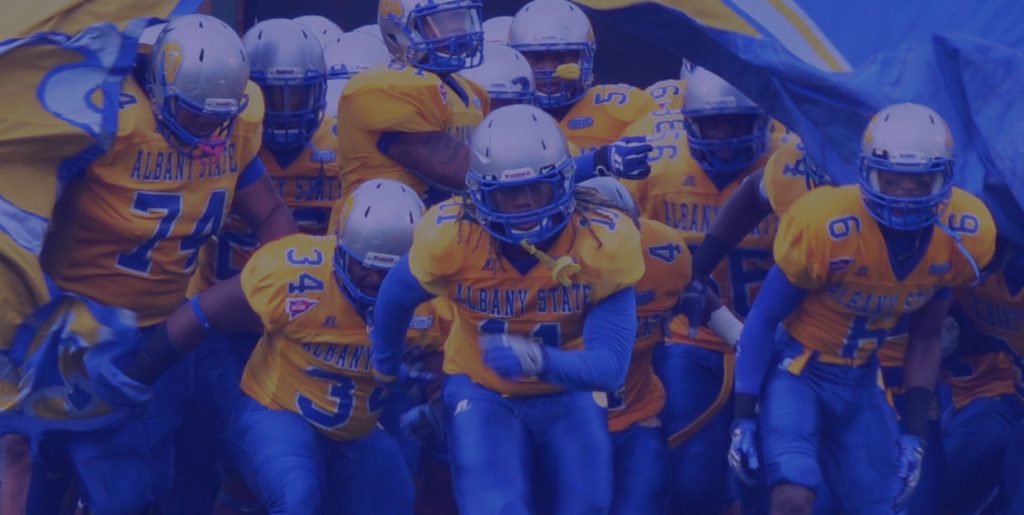 ALBANY – The Albany State University Golden Rams will host the Clark Atlanta University Panthers for Homecoming 2018 on Saturday, Oct. 20. Kick off begins at 2 p.m. at Hugh Mills Stadium in Albany.
The football game was originally scheduled to be played at the ASU Stadium. However, significant damage to the field and facility caused by Hurricane Michael prompted the relocation.
"Although we will not be able to compete on our home field, we are excited about competing at Hugh Mills Stadium," said ASU Athletics Director Sherie Gordon. "It will be a flashback to when it was the home field for our Golden Rams. We look forward to our students, faculty, staff, alumni and the community packing Hugh Mills to support the home team."
Tickets
Game tickets are on sale for $20 for general tickets and $5 for youth ages 5-17 and visiting college students with valid ID. ASU Athletics will provide 1,000 complimentary tickets to Southwest Georgia residents in the 32 counties impacted by Hurricane Michael. Tickets will be available on a first-come, first-serve basis the day of the game. Those who have previously purchased tickets for the Homecoming match up should bring them to Saturday's game. Please visit www.asuramstickets.com to purchase tickets.
Transportation and Parking
Parking at Hugh Mills will be free for the general public. The University will provide ASU students with a shuttle service from the ASU East and West campuses to Hugh Mills Stadium. All Ram Fund members will have a designated location for parking but must present their season parking pass. Those who have purchased tailgating spots on the ASU campus must bring previously distributed parking passes with them to the East Campus for admittance to their tailgating location. Tailgaters and those attending the ASU Hurricane Relief Block Party can utilize the Ram Rush bus system for transportation from the East Campus to Hugh Mills. The Department of Athletics will be in touch with tailgaters and Ram Fund members with more details.
Tailgating
Due to limited parking areas at Hugh Mills Stadium, tailgating will not be allowed there. ASU alumni, friends, and supporters are invited to tailgate Saturday on the East Campus across from the ASU Coliseum beginning at 8 a.m. The end time is tentatively set for 10 p.m. Tailgating spots are available for purchase at www.asuramstickets.com until 5 p.m. Thursday, Oct. 18. Those who have previously purchased tailgating spots but are unable to attend due to challenges caused by the recent storm, may credit payments toward the 2019 football season. As an alternative, full refunds are available for those who wish to receive them. Please email asutickets@asurams.edu or call 229-317-6558 for details regarding refunds.
For more information related to ASU Athletics, please call 229-317-6558. For more information about the revised Homecoming schedule, please visit the ASU website.