ASU students prepare to experience new cultures with help of Gilman study abroad scholarship
ASU students prepare to experience new cultures
with help of Gilman study abroad scholarship
By Contributing Writer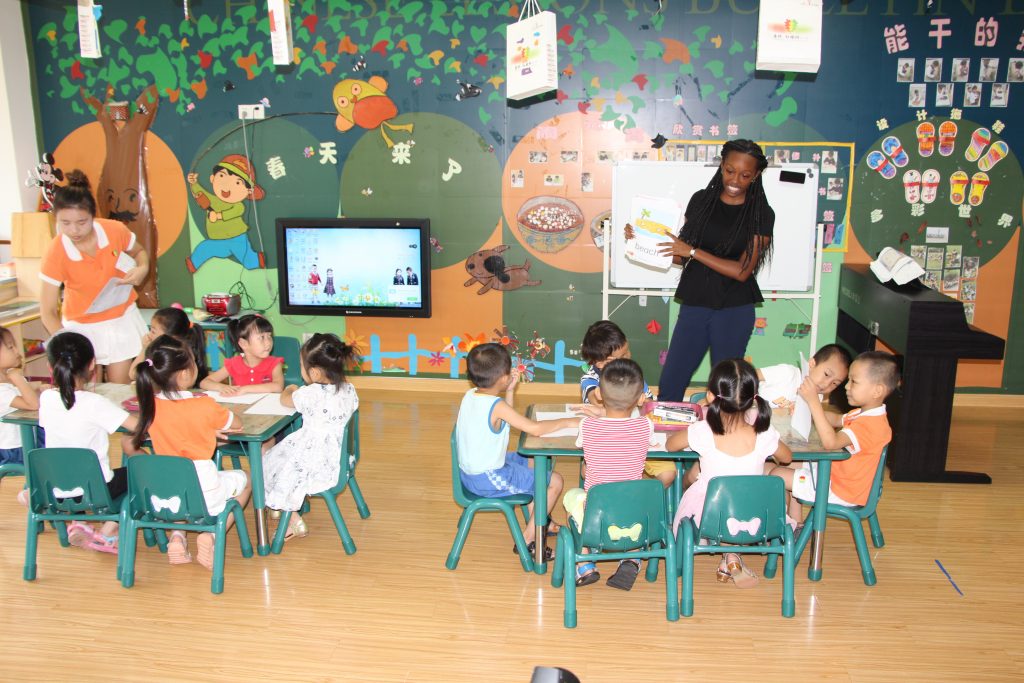 ASU alumna Alex Merrilles teaches Chinese students while visiting a bilingual kindergarten class in Xiamen, China during a previous summer study abroad trip.
ALBANY, Ga - An Albany State University (ASU) education can take one to the farthest corners of the world and ASU's Office of International Education (OIE) wants students to know that they can make that trip happen sooner rather than later.
Eight ASU students recently received the Benjamin A. Gilman International Scholarship, a grant program that enables students of limited financial means to gain academic credit or internship experience abroad. This summer, Vivia Johnson, Jamarious Allen, Tamia Hurst, Aleshia Thomason, Edward Carter, Jasmine Sparks, Nikesia Patrick and Asia Clemmons will travel abroad to gain skills that will help them in their respective majors and beyond.

For Carter, a nursing major who will travel to India, the experience not only allows him to get out and travel, something he's done very little of, but also to set an example for his two children in hopes that they might have a global perspective while living in Georgia.
"I believe, especially the way the world is now and how there are different prejudices in the world, I'm going out to experience a brand new culture and gain a brand new understanding and respect," Carter said. "What you're going through and what you learn, you can bring that back to your family and your kids and get them to understand that they don't have to grow up in the same type of world. It helps them develop a mindset to help end the prejudices in our communities."
Nneka Nora Osakwe, OIE director and an ASU professor of English, became advisor for the program in 2012. Since then, has seen close to 50 students make their study abroad dreams come true through the Gilman scholarship.

She noted that Albany State set a national record in 2015 when 15 students received the financial award. Osakwe said students have shown through their essays and projects that ASU can go toe-to-toe with the top universities in the nation.

"What is says is that there is nothing our students cannot do in this environment. There is nothing our students cannot do as long as they get our support," Osakwe said.

To receive the scholarship, students completed an application, wrote a personal statement essay and detailed what they plan to do when returning from the experience. Gilman Scholars receive up to $5,000, which helps to cover travel costs and costs needed to help students carry out their personal initiatives.

While her hometown of Miami is a diverse one, Johnson is hopeful her trip to Trinidad and Tobago will prepare her as she works to challenge young minds back home. The psychology major already undertakes a number of service projects to assist the youth in the area and she feels the Gilman scholarship will help her take it to the next level.
As her follow up project, Johnson plans on hosting a forum and a Q&A session at her alma mater, Blanch Ely High School in Pompano Beach, Florida, in hopes that she will open students' eyes to the possibilities that lie outside their city.

"The students that go there because they have to or their parents get sent to jail and stuff like that, I want to show them that there is more to life than just Pompano Beach Florida," Johnson said. "I went to Albany State University to get out of Florida and to get a different mindset. I want to show those kids that as long as you work hard and you graduate, you can find people in the school. If you don't get that support from your parents, you can find other faculty members that will help you find these type of opportunities."
###
Follow Albany State University on Twitter and Facebook @AlbanyStateUniv.