ASU Ram Central opens as central location for enrollment services
ASU Ram Central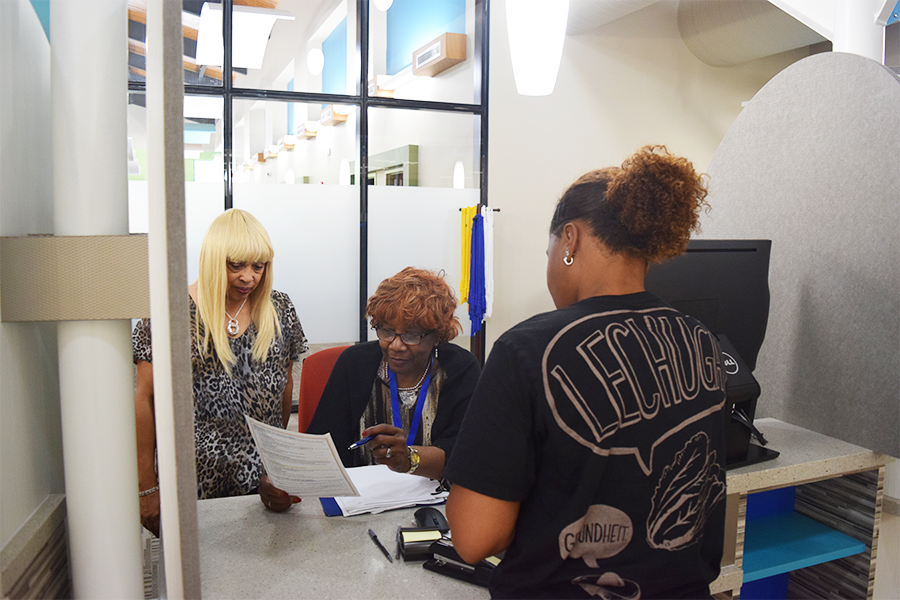 ASU staff members Valencia Hill (right) and Jean Reliford (left) assist
ASU student Brittanie Evans at one of the two Ram Central locations.
ALBANY, Ga. – Ram Central, the new home for the offices of financial aid, admissions, student accounts and the registrar, officially began serving Albany State University (ASU) students and visitors.
The hubs, located on both the East and West campuses, serve as central locations for coordinated efforts between key university offices. Current and prospective students can visit each hub to address all enrollment needs.
"I am very excited about the new level of service we are providing for our students at Albany State University," said Aaron Reese, vice president for Student Affairs and Enrollment Management at ASU. "Visitors to Ram Central will find it to be a student-centered experience. Students can walk to the counter and be met with a smile as they drop off documents or ask questions regarding admission status, financial aid or making a payment."
The central locations allow prospective students and their parents to speak to admission representatives and complete admission applications with ease. Staff members from each previously mentioned area are on hand to meet with students for more complex concerns.
"If Ram Central's front-line staff cannot assist the student, wait right there and we will bring the expert to you - no more traveling between buildings or changing floors only to find a new line," Reese said.
At the hubs, students can review financial aid, make payments, requests transcripts, submit forms for processing, and more. Ram Central provides a unified and coordinated approach to serving students as it was designed to be the first stop - and possibly the only stop - for frequently asked questions or problems regarding financial aid, registration, admissions or student accounts.
"Ram Central eliminates the need for students to migrate from office to office to receive answers to their questions," said Stephanie Lawrence, assistant vice president for Enrollment Management. "Customer service specialists have cross-functional knowledge and are trained to assist students with enrollment management needs. Specialists can quickly assess student problems to either find a solution on the spot or to refer students to the appropriate resource for more information."
The new spaces include self-serve kiosks that students can use for multiple purposes. A new text queue system will be implemented in the future to ensure students are notified through text of the anticipated wait time and when a requested counselor or representative is available.
The centers are open Monday – Friday from 8 a.m. to 5 p.m. The hubs are located on the main floor of the student center on the West Campus and on the first floor of the Billy C. Black Building on the East Campus. Both locations are open for service. The East Campus location is undergoing renovations. All admissions, financial aid, registrar and student account staff members have relocated to the new spaces.
###
Follow Albany State University on Twitter and Facebook @AlbanyStateUniv.