ASU interim president discusses healthcare education at State of the Community event
Healthcare Education in Southwest Georgia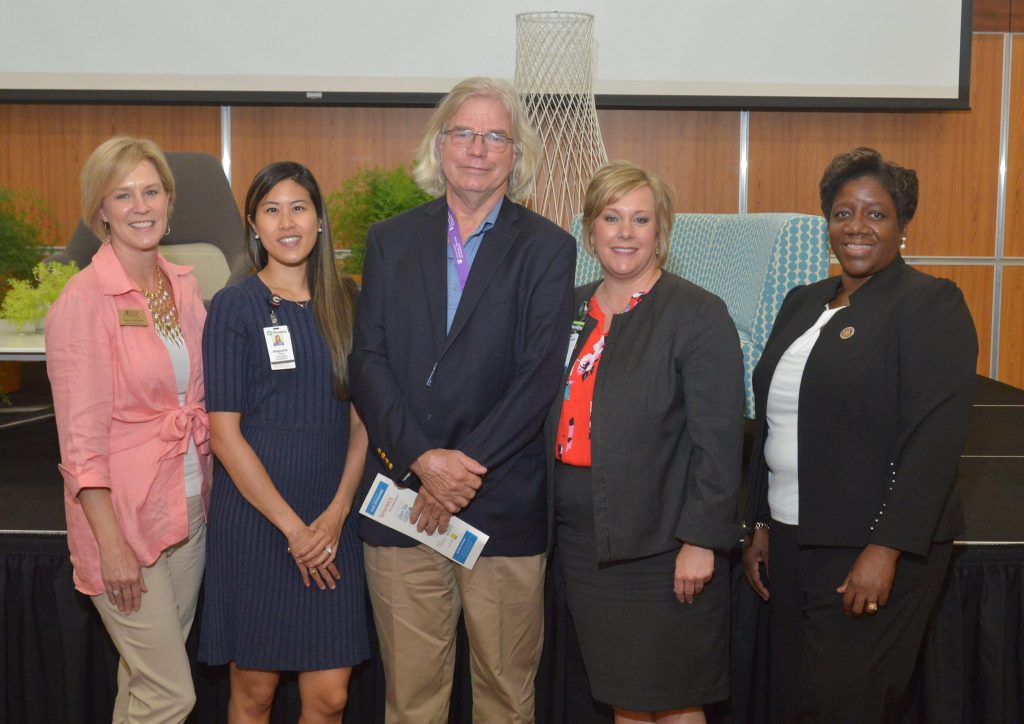 Caption: Interim President Marion Fedrick (right) discussed healthcare education in Southwest Georgia with fellow panelists Laura Calhoun (left), Stephanie Phan, Dr. Doug Patten and Tracy St. Amant at the Albany Area Chamber of Commerce's State of the Community event. Photo credit: Reginald Christian
Albany State University (ASU) Interim President Marion Fedrick highlighted the importance of having a statewide conversation about healthcare needs and education, recently, at the Albany Area Chamber of Commerce's State of the Community event.

The initiative, held Wednesday, June 20, brought together community leaders and healthcare professionals to have an insightful dialogue about healthcare education in Southwest Georgia and what it means for the region's economy.

The healthcare education panel included representatives from the Southwest Georgia Area Health Education Center, the Medical College of Georgia Southwest Campus, the University of Georgia College of Pharmacy Southwest Campus and the Phoebe Putney Memorial Hospital.

"I think that on the University System of Georgia level, a larger conversation needs to happen among all of our schools that offer healthcare degrees. We need to strengthen our collective ability to educate and graduate our students in healthcare fields," she said.

This past spring, ASU graduated almost 600 health professionals. Fedrick said the university has been hard at work with Phoebe Putney Memorial Hospital for an ASU nursing curriculum redesign.

"We want to make sure that as we're graduating those 600 professionals that they are who the employer needs and that they are prepared to provide patient care," she said.

She noted the possibility of ASU developing a rural taskforce that will assess healthcare needs in Southwest Georgia.

"It's a big endeavor, but I think it is critical to start this effort in Southwest Georgia," Fedrick said.
###

Follow Albany State University on Twitter and Facebook @AlbanyStateUniv.