ASU, PCCSS partner to expose high school students to college life
ASU and PCCSS partner to offer
a summer bridge program to high school students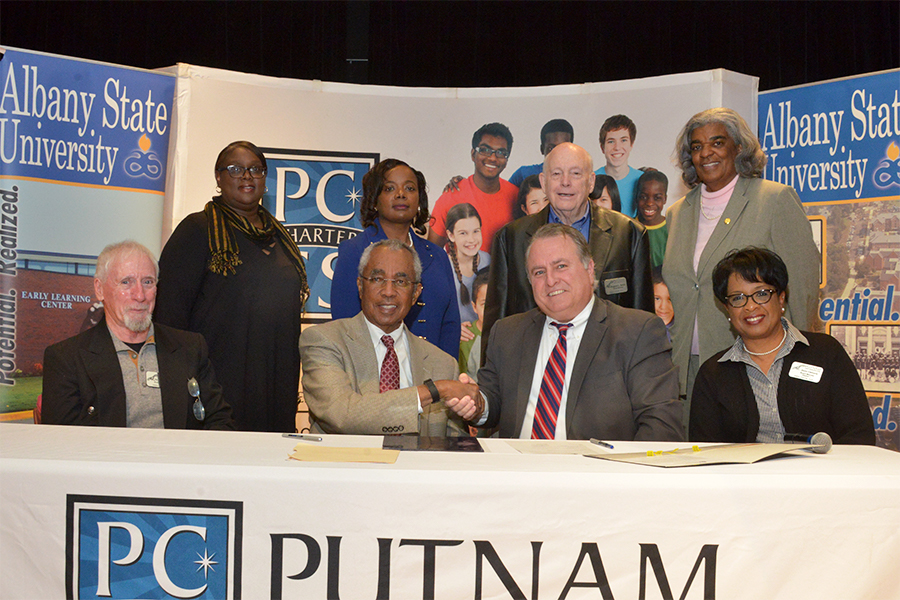 ASU and PCCSS partner to offer a summer bridge program to high school students. Back row (l to r): Rowena Daniels, Kimberly Holmes, Gene Smith and Avis Williams. Front row (l to r): Steve Weiner, Art Dunning, Eric Arena and Doris Clemens. Photo credit: Reginald Christian
ALBANY, Ga. – A new partnership between Albany State University (ASU) and Putnam County Charter School System (PCCSS) will help expose high school students to the academic demands of college life prior to acceptance. The two institutions signed a memorandum of understanding, Thursday, Jan. 25, to establish a summer bridge program.
The summer bridge program will allow 30 PCCSS high school students to explore opportunities for attending college, prepare for and complete college entrance exams, as well as receive assistance with completing college applications. The program will also aid students in developing skills related to decision making, time management, financial literacy, career selection and social and character development. Initially, the program will be offered for one week during the summer.
"Student success remains our top priority at Albany State University," said ASU President Art Dunning. "This new partnership allows for an easier transition for high school students as they embark on the exciting pursuit of higher education."
The program will also benefit parents by improving awareness of the college admission process, financial aid requirements, scholarship opportunities, and other related information necessary to facilitate the students' smooth transition into the college environment.
This is the first memorandum of understanding between ASU and PCCSS.
###
Follow Albany State University on Twitter and Facebook @AlbanyStateUniv.