From Middle School to ASU introduces Crisp County students to essential college processes
From Middle School to ASU introduces
Crisp County students to essential college processes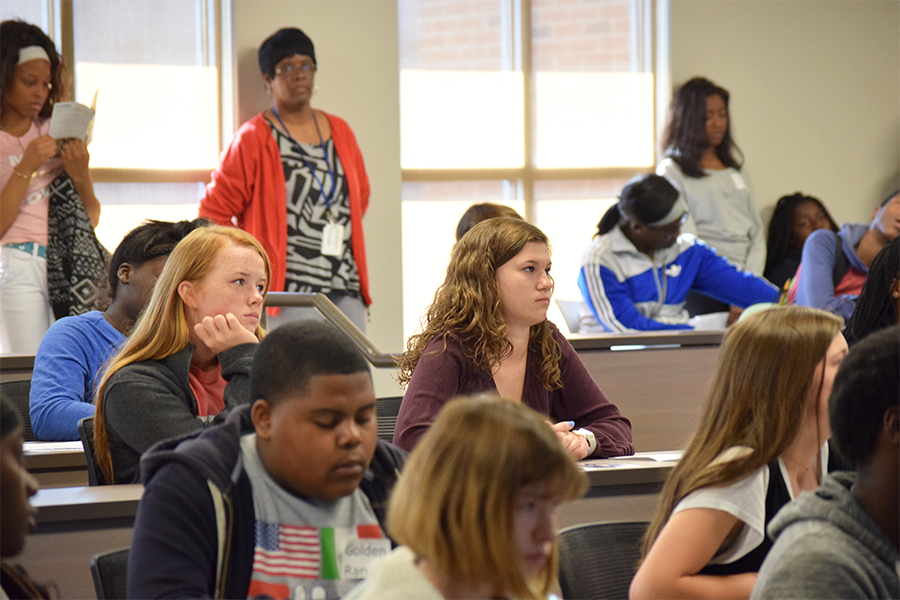 Crisp County middle school students met with ASU representatives to learn more about essential college processes for admissions, financial aid and more.
ALBANY, Ga. – Crisp County Middle School students got an early start on exploring college options at Albany State University (ASU).
ASU presented its first From Middle School to ASU initiative on Tuesday, May 8, at the ASU Cordele Center. Eighth grade students engaged with representatives from the university's admissions, financial aid, student activities and dual enrollment services. A current ASU student also presented a dance performance.
The event was one of the institution's targeted recruiting approaches to provide early exposure to students about the admissions process and all other requirements for attending the university.
"We thought this would be a great opportunity to start educating them on what the expectations are, so that it can be a seamless transition, once they decide to go off to college," said Wendy Wilson, executive director of the Cordele Center. "We'll continue this relationship and constantly remind them that we're here, and we want to see them succeed, and we want to be a part of that process."
Representatives reviewed ASU academic programs and illustrated how those programs connected to students' future aspirations. Students discussed wanting to be doctors, business owners, nurses and more.
Eighth grade student Jennifer Bedford said she learned a lot of information that she didn't know before.
"It's a good college," she said. "I'm actually going to go here for nursing to get my master's because they offer that."
Some students have fears about what they will do when they grow up, according to Hope Sowell, graduation coach counselor at Crisp County Middle School. Providing early exposure to college programs helps to ease those fears.
"It's one thing to want to be a teacher, and it's another to actually have the profession explained to you. A lot of them hear the title, but they don't understand what goes with the job," Sowell said.
A few colleges have reached out to Crisp County Middle School students, Sowell said, but ASU is the only school that has invited the students to visit the institution and find out more about the academic programs offered.
Many of the students will be first-generation college students and From Middle School to ASU is their first introduction to college processes, according to Traci Griffen, campus coordinator for the ASU Cordele Center.
"We're hoping that students will understand the importance of getting ready for college and taking it seriously," Griffen said.
The ASU Cordele Center routinely partners with the Crisp County School District, particularly Crisp County High School, and recently forged a relationship with the middle school.
"We have a great center here, right in their own backyard," Wilson said. "One of the successes that we've had, as it relates to the relationship, is the dual enrollment program.
The Dual Enrollment (DE) program allows high school students to enroll in college level courses. Crisp County High School students currently take core college courses at the center.
Achelsea Deans, an eighth grade student, said she learned a lot from the event and plans to take advantage of the dual enrollment program. She aspires to be a physical therapist.
"It was very informational. The session answered a lot of questions that I had about dual enrollment," Deans said.
Wilson said she believes the event is the beginning of a healthy and long relationship with the middle school.
###
Follow Albany State University on Twitter and Facebook @AlbanyStateUniv.