Albany State students spotlighted at University System of Georgia meeting for their work with blockchain technology
Blockchain Technology
at the May University System of Georgia Board of Regents Meeting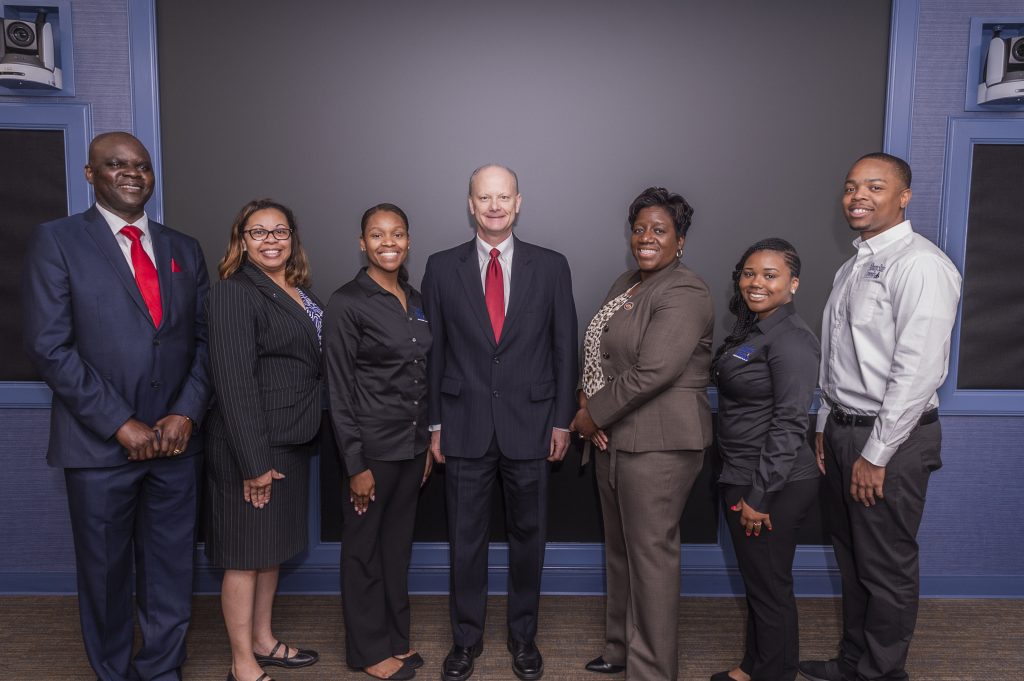 Albany State University computer science students were invited to showcase their work in blockchain technology at the May University System of Georgia Board of Regents meeting. Each student has secured a job or internship with IBM this summer. Left to right: Dr. Robert Owor, Dr. Tracy Williams, Myonna Douglass, Chancellor Steve Wrigley, President Marion Fedrick, Melody Collins, Kevin McClendon. Photo credit: Bill Roa
ALBANY, Ga. – Albany State University (ASU) computer science students presented at the University System of Georgia (USG) Board of Regents meeting, Tuesday, May 15, to showcase their work in blockchain technology and their partnership with IBM, one of the country's largest tech employers.
In addition to the presentation, Chancellor Steve Wrigley announced blockchain technology and data analysis as two new "Nexus" degree program areas of study for the USG. ASU offered its first blockchain technology course in the fall 2017 semester.
"Blockchain is a powerful technology that uses a distributed global ledger to capture transactions, issue smart contracts and perform consensus algorithms to enable secure permanent records to be shared among trusted parties," explained Robert Owor, interim chair and professor in the ASU Mathematics and Computer Science Department. "Blockchain is the original technology behind Bitcoin. It has since expanded beyond Bitcoin into corporate and enterprise systems for asset tracking, financial technologies and medical records to name just a few."
Three ASU students presented during the USG board meeting. They explained how they have worked with blockchain technology through class projects and how they feel the coursework makes them more marketable to technology companies. Recent ASU graduate Myonna Douglas, has been hired as a program developer with IBM and starts in June. ASU senior Kevin McClendon, and junior Melody Collins have secured internships with IBM this summer.
"Presenting technical and complex information to executives and public constituents will be a frequent requirement in a professional career. Our students demonstrated their skills at the Board of Regents meeting with precision, because they practiced and had a planned message," said Tracy Williams, ASU Career Services director. "Mastering effective communications skills with confidence and keeping the message coherent is one of the most requested services Career Services provides to our students. Whether it's preparing for an interview or a major presentation, the skills are the same; we prepare professionals."
In February, more than 100 people visited ASU to learn about blockchain technology from industry leaders at the Technology Link: Blockchain Conference 2018. It was the first event of its kind hosted by IBM at a Historically Black College and University (HBCU).
The one-day conference brought together students and faculty from several HBCUs, as well as students and teachers from the Dougherty County School system, other colleges and universities and area business professionals.
Since partnering with IBM, twelve ASU students have been hired to work with the company.
###
Follow Albany State University on Twitter and Facebook @AlbanyStateUniv.