ASU honors faculty, staff at first Employee Recognition Awards
ASU honors faculty, staff at first Employee Recognition Awards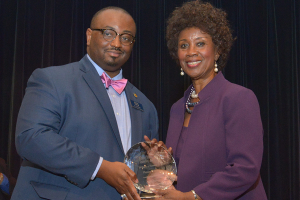 A.L. Fleming (left), vice president for development and alumni relations, presents a special token of appreciation to assistant professor Flo Hill for dedication 40 years of service to Albany State.
ALBANY, Ga. – Albany State University (ASU) honored more than 100 faculty and staff members for their many years of service and dedicated efforts to the success of the university.

During the first Employee Recognition Awards, held Thursday, April 26, employees celebrating 5, 10, 15, 20, 25, 30 and 40 years were recognized.

"We're delighted to take this opportunity to recognize our employees who have achieved 5 years of service or more," said Human Resources Director Laurie Jones. "From fresh new perspectives to long term knowledge, you are ASU and we thank you for your service."

Three employees were recognized for 40 years of service. This year's honorees were Flossie "Flo" Hill, who works in the Academic Success Unit; Dean Marshall, who works in Facilities Management; and Margie Tippins, who works in the Nursing Department.

"This is truly phenomenal. Without our colleagues, we definitely can't do what we do. And we definitely can't stay here 10, 20, 30, or 40 years," Interim President Marion Fedrick said during the awards ceremony. "Thank you all for all you do for our institution, for your institution and for the students' institution. We cannot do this without you."

All employees received a token of appreciation from Human Resources Management and the Office of Development and Alumni Relations. A reception followed in the Billy C. Black Atrium.
###

Follow Albany State University on Twitter and Facebook @AlbanyStateUniv.