Albany State University 2018 fall commencement ceremony to be held Dec. 8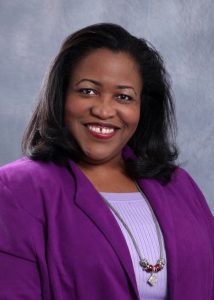 ALBANY – Albany State University (ASU) will honor over 700 graduates at the fall commencement ceremony at 10 a.m., Saturday, Dec. 8, at the Albany James H. Gray Sr. Civic Center. The procession begins at 9:30 a.m.
Georgette "Gigi" Dixon will serve as the keynote speaker. A senior vice president and senior director of external relations for national constituents at Wells Fargo, Dixon leads and coordinates Wells Fargo's engagement and outreach to national non-government organizations and key stakeholders with the goal of promoting Wells Fargo's policy priorities.
Throughout her extensive career, Dixon has served in a variety of leadership roles with Wells Fargo. Prior to her current role, Dixon was a marketing manager for wholesale banking, small business banking, commercial banking; director of emerging (multicultural) markets and director of strategic partnerships for the Wells Fargo Foundation. She served on the Corporate Diversity Council for 6 years. In 2005, she was recognized as one of U.S. Banker magazine's Most Powerful Women to Watch.
Dixon received a Bachelor of Science degree with Distinction in speech communications and theater from Tennessee State University in Nashville, Tennessee. She has Boston College Carroll School of Management certificates in corporate community involvement and nonprofit leadership.
The fall commencement ceremony will include a U.S. Army ROTC commissioning ceremony, following the conferring of degrees. Additional commencement related activities are listed below.
Fall 2018 Nursing Pinning Ceremony, 5 p.m., Thursday, Dec. 6, Building C, room 266 (West). The program will recognize more than 100 senior nursing students.
Fall 2018 Health Sciences Pinning Ceremony, 3 p.m., Friday, Dec. 7, Building C, room 266 (West). The program will recognize students who are completing various health science programs.
Fall 2018 Professional Embracing Novice (PENning) Ceremony, 5 p.m., Friday, Dec. 7, Billy C. Black Building Auditorium (East). The program is designed to prepare future educators for the transition from college to the classroom. During the ceremony, veteran educators will pin the novice educators who are entering the education field.
###
Follow Albany State University on Twitter and Facebook @AlbanyStateUniv