President Fedrick, ASU alumni have candid discussion about university accomplishments and goals at NAA Planning Conference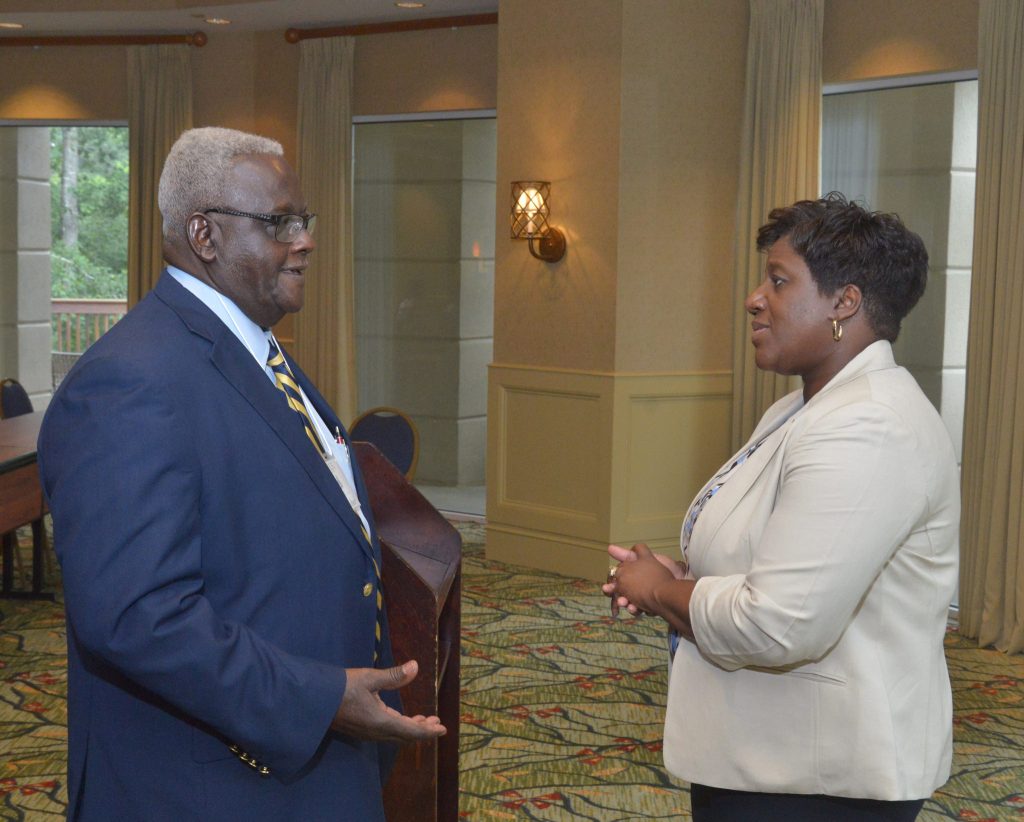 President Marion Fedrick (right) discusses university goals and accomplishments
with ASU alumnus John Culbreath.

ALBANY, Ga – Albany State University (ASU) alumni members enjoyed an engaging conversation with Interim President Marion Fedrick at the 2018 National Alumni Association (NAA) Planning Conference.

The President's Workshop, held Thursday, June 21, in Stone Mountain, gave attending alumni members the opportunity to learn more about accomplishments from the last academic year and goals for the next year.

Fedrick highlighted key points and targets for the Office of the President, Academic Affairs, Fiscal Affairs and Administration, Student Affairs and Enrollment Management, the Department of Athletics and Institutional Advancement.

"I thought it was a great session. We received more information here than we've gotten in many years," said R.A. Hunter, NAA planning conference chair. "I like the passion that the president has for the institution. I feel like her heart is in it. That's something we haven't had in a long time. I think she's honest and that makes a difference. She's doing an outstanding job and that's what we need."

"Every day, we're talking about how to do it better," Fedrick noted as she detailed the importance of improving the student experience.

ASU senior leadership team members, A.L. Fleming, vice president for Institutional Advancement, Kenyatta Johnson, chief of staff for the Office of the President; and Sherrie Gordon, director of the Department of Athletics, were also in attendance to answer questions about enrollment, recruitment efforts and more.

Alumna Jean Lynn said she enjoyed the session but wished more time was available. Lynn wants to have a longer discussion about support for student scholarships and the band.

"I think it was a wonderful session," Lynn said. "I just think we didn't have long enough for things to be discussed in detail, so that everyone would really get an understanding of the university and how we can really implement different things."

Some alumni members said they appreciated the open and honest dialogue provided by the team.

"They filled in a lot of important information that we have not gotten before," said William Johnson, NAA president.

This annual conference began Wednesday, June 20 and ended Saturday, June 23.
###
Follow Albany State University on Twitter and Facebook @AlbanyStateUniv.