Events set for ASU 2017 Homecoming celebration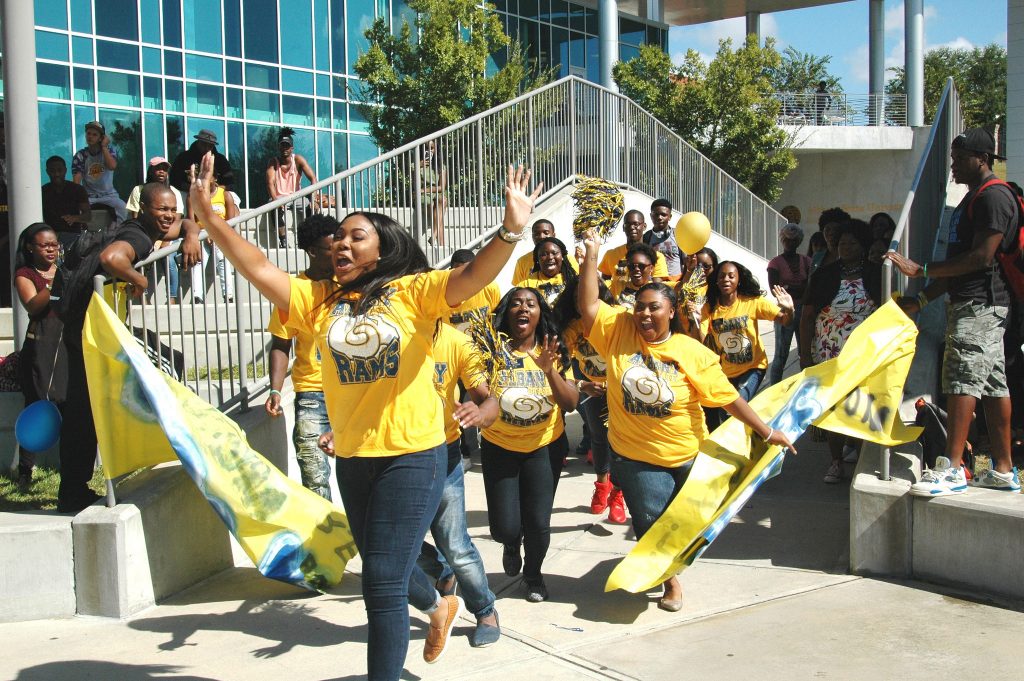 Albany State University turns city blue and gold
Events set for 2017 Homecoming celebration
ALBANY, Ga. – Albany State University (ASU) and the city of Albany gear up for another spirit-filled ASU Homecoming celebration Oct. 8 – 14. This year's theme, There's No Place Like Home…coming, welcomes students, alumni, community members and supporters to a variety of homecoming events.
Topping the lineup of events is the crowning of the 2017-2018 Miss Albany State University, Wanesia Francis, and Mr. Albany State University, Santo Nina. The coronation begins at 6 p.m., Sunday, Oct. 8, in the Health, Physical Education and Recreation Gymnasium (HPER) on the east campus. This event is free and open to the public.
The official homecoming kick-off will begin at noon, Monday, Oct. 9, at the ASU Amphitheatre, located on the east campus.
Aligning with this year's theme, former ASU student athlete and Grammy-nominated recording artist Rick Ross will headline a Student Appreciation Concert at 8 p.m., Thursday, Oct. 12, in the HPER gym. General admission is $30. Doors open at 7:30 p.m.
Ross, who performed during homecoming activities in 2010, is also owner of several Wingstop franchises and the Maybach Music Group record label. In addition to his homecoming performance, Ross will participate in a discussion on domestic violence in recognition of October as Domestic Violence Prevention month.
Homecoming Convocation is scheduled for 10 a.m., Friday, Oct. 13, in the HPER gym. Alumnus William R. Shepherd, longtime educator and leader of contemporary inner-city school reform, will serve as a keynote speaker. Alumna Shareka L. Nelson, Facebook's diversity business partner for the Global Marketing Solutions teams, will also serve as keynote speaker.
A community pep rally and social will be held Friday from 8 p.m. to midnight, in the 100 block of Pine Avenue in Downtown Albany. The event is in partnership with the city of Albany and will feature the ASU cheerleaders, the Marching Rams Show Band and food.
The Homecoming Step Show also will be held Friday at 8 p.m. in HPER. General admission is $20. Doors open at 7:30 p.m. and the show begins at 8 p.m.
The week-long celebration continues on Saturday, Oct. 14, with the Homecoming Parade at 9 a.m. along Pine Avenue. Fans will then head to the Albany State University Coliseum where the Golden Rams football team will take on the Morehouse College Tigers at 2 p.m.
For the full list of events and where to purchase tickets, visit the ASU Homecoming website.
###
About ASU …
Albany State University, in Southwest Georgia, has been a catalyst for change in the region from its inception as the Albany Bible and Manual Training Institute to its designation as a university. Founded in 1903 to educate African-American youth, the university continues to fulfill its historic mission while also serving the educational needs of an increasingly diverse student population. A progressive institution, Albany State University seeks to foster the growth and development of the region, state and nation through teaching, research, creative expression and public service. Through its collaborative efforts, the university responds to the needs of all of its constituents and offers educational programs and service to improve the quality of life in Southwest Georgia. For more information, please visit https://www.asurams.edu/. Follow the university on Twitter and Facebook @AlbanyStateUniv.