Albany State University to host 2017 CAAM Winter Youth Summit
Summit to educate middle school students on education, leadership, health and male empowerment
By Mikeala Green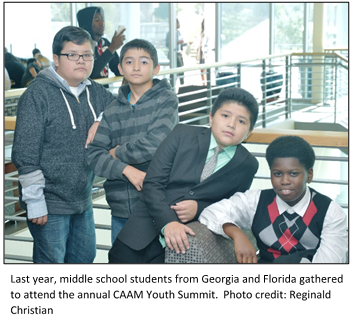 ALBANY, Ga – The Albany State University Center for the African American Male (CAAM) will welcome middle school males to the annual Winter Youth Summit, Friday, Feb 24. The Summit begins at 9 a.m. in the Health Physical Education and Recreation (HPER) Gymnasium located on the East Campus. The summit's theme is "A Bridge to College."
"CAAM invites Southwest Georgia and North Florida middle school boys to our conference where they will be entertained with high speed breakout sessions in science, technology, engineering, math and robotics. They will have a presentation on higher education and the importance of leadership. We will also do a health and wellness component of our summit," said Antonio Leroy, executive director of CAAM.
The purpose of the event is to inspire middle school boys to develop sound leadership traits early. An estimated 700 to 1000 middle school males are expected to attend.
"The students that participate in these programs show less behavioral problems in the classroom and look forward to this event every year," said Lakeisha Covin, parent teacher coordinator at Albany Middle School.
During the conference, students will be broken into groups to engage in high energy academic and motivational sessions, which allot time for social engagement among peers.
"We mentor our students on a personal level. We facilitate the event throughout the day, and make sure they get from one breakout session to another," said Sean Whorton, CAAM president.
Speakers for the CAAM 2017 Winter Youth Summit include Vicki Philips, ASU director of student health services; Dennis Courtney, engineering instructor at Albany Technical College and Jaylon O'Neal, published author and ASU student. Special performances will be made by ASU Greek organizations. Youth Summit participants will also tour Albany State University and dine on campus.
###
About Albany State University … Albany State University, in Southwest Georgia, has been a catalyst for change in the region from its inception as the Albany Bible and Manual Training Institute to its designation as a university. Founded in 1903 to educate African-American youth, the university continues to fulfill its historic mission while also serving the educational needs of an increasingly diverse student population. A progressive institution, Albany State University seeks to foster the growth and development of the region, state and nation through teaching, research, creative expression and public service. Through its collaborative efforts, the university responds to the needs of all of its constituents and offers educational programs and service to improve the quality of life in Southwest Georgia. For more information, see https://www.asurams.edu. Follow the university on Twitter at @AlbanyStateUniv and on Facebook at Albany State University Official Page.