ASU students conduct STEM-related research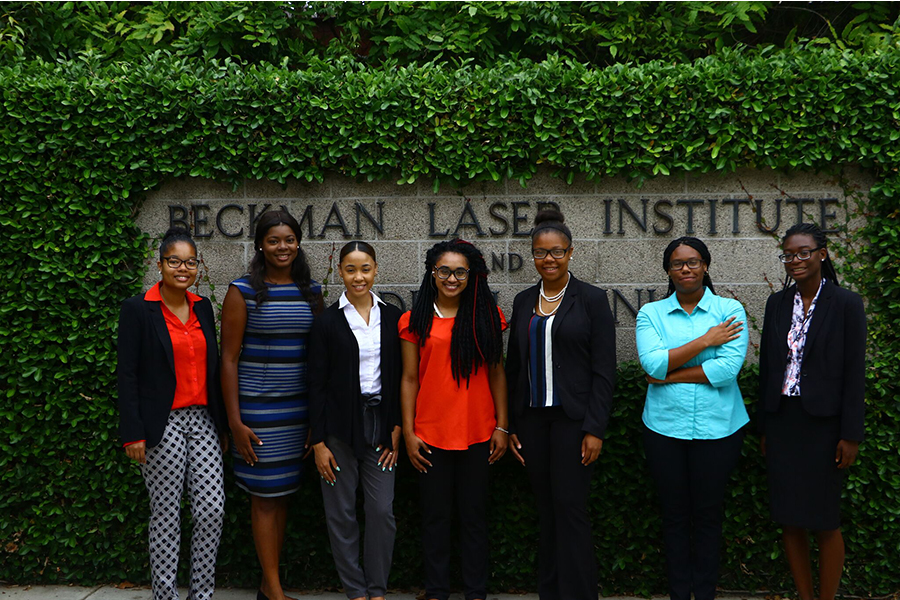 Photo credit: Richard Diaz, University of California, Irvine
ALBANY, Ga. – Albany State University (ASU) students are continuing to advance innovative research inside and outside of the classroom. Four students are continuing summer research experiences by participating in state conferences and partnering with ASU research professors.
Seven students worked alongside faculty members from the University of California, Irvine (UCI) in the lab and field to conduct innovative research related to physical chemistry, bioengineering, and biophotonics this past summer. The students participated in the Pathways to Biophotonics and Biomedical Engineering (PBBE) program and the CaSTL University of California, Irvine - Albany State University Pathways program. Students were trained in research methods, data analysis and written and oral communication techniques. UCI faculty members mentored students and reviewed the development of students' research.
"The program provided the opportunity to utilize laser spectroscopies and different non-linear optical techniques. Both will definitely aid my future research endeavors," said Alexius Lampkin, a forensic science and chemistry major from Headland, Alabama, and a participant in the PBBE program. In October, Lumpkin presented research at the Black Doctoral Network Conference in Atlanta.
The initiatives recruit undergraduate students from historically black colleges and universities who are interested in pursuing STEM careers.
Florence Lyons, the director of ASU's Velma Fudge Grant Honors Program, was instrumental in cultivating the partnership between ASU and the University of California, Irvine.
"This is a wonderful opportunity for our students, and I am thrilled that for the next two summers, selected ASU students will continue to benefit from the tutelage of graduate professors and medical school faculty at the University of California, Irvine."
As a result of their participation in the summer programs, students have the opportunity to receive free tuition to pursue a master's degree or doctoral degree at any of the 10 University of California institutions, provided they meet all of the requirements for acceptance into the graduate program.
CaSTL summer program participants
Janese Bibbs – Chemistry major, Chicago, Illinois
Shaniece-Makayla DeCastro - Forensic Science major, Brooklyn, New York
Jasmine Thomas - Forensic Science major, Cleveland, Mississippi
ZeAndrea Whitfield - Forensic Science major, Duluth, Georgia
Pathways to Biophotonics and Biomedical Engineering program participants
DaMonie McRae - Chemistry major, Dawson, Georgia
Sydnei Head - Chemistry major, Powder Springs, Georgia
Alexius Lampkin - Forensic Science and Chemistry major, Headland, Alabama