Albany State University theatre professor selected for prestigious Fulbright Specialist roster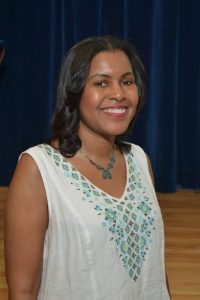 ALBANY – Albany State University Director of Theatre and Associate Professor, Eve Graves, will extend her passion for theatre history and cultural studies as a member of the esteemed Fulbright Specialist roster.
The Fulbright Specialist Program is funded by the U.S. Department of State's Bureau of Educational and Cultural Affairs. Established in 2001, the program serves and promotes international engagement between U.S. scholars and professionals and overseas institutions. Graves will serve a three-year tenure in the program, affording her the opportunity to make multiple two to six week visits to countries around the world to share knowledge as an expert consultant on curriculum, faculty development, institutional planning and related topics.
"It is an honor to be selected as a Fulbright Specialist and to be placed on the roster," Graves said. "I am honored to share my expertise about theatre history and cultural communication with others."
Graves has lectured at Teacher's College at Columbia University in New York City and has taught in over 28 different countries.
"Nothing excites me as much as sharing my travel experiences with my students, which often motivates them to create their own global partnerships," she said.
The Fulbright Specialist Program works with institutions in over 150 countries and other areas, including Sudan, Taiwan, Denmark, Lebanon, India and Mexico. Graves will work with projects related to communications and professional development. She proposes using theatre as social action.
"Theatre artists are storytellers, and theatre historians are the collectors and societal recorders of those narratives told. As a Fulbright Specialist, I plan to listen, record and share," Graves said. "I will teach public speaking skills for global scholars interested in strengthening their interpersonal skills. My secondary project will explore using theatre to communicate and combat social problems."
Graves is the first Albany State University faculty member in the arts to be a member of the prestigious roster.
Having lectured and studied in Thailand and conducted research in Senegal, Graves is no stranger to international collaboration. She has visited several European countries and lived in China for nearly 5 years.
"I taught in the Henan Province but mostly in the Fujian Province," Graves said. "Sometimes I return to China to teach at Xiamen University in the summers, and I have had the privilege of taking students to my home in China for a study abroad trip."
She begins every semester by speaking to students in Chinese and explaining the importance of global exchange.
"America isn't the center of the globe; it's a small part of the world. It's so important for us to listen, learn and positively impact the world. The majority of ASU students feel this way. They love hearing stories about my adventures in other lands and many of them want to travel as long as there is a McDonald's nearby," Graves said, jokingly.
Graves joined the ASU learning community after teaching at the College of William and Mary in Williamsburg, Virginia for almost a decade and serving as a scholar for the Carnegie Academy for the Scholarship of Teaching and Learning (CASTL) at the Carnegie Foundation at Stanford University in Stanford, California. She also taught for the City University of New York (CUNY) system in New York City. Graves regularly publishes scholarly pieces and stages works that express the diverse experiences of the human experience. She earned a B.A. in Theatre from Spelman College in Atlanta and an M. A. and Ph.D. from Bowling Green State University in Bowling Green, Ohio.
"Wherever I go as a Fulbright Specialist, I will bring those experiences back to ASU," Graves said. "I see the classroom as a window to the world."
###
About Albany State University …
Albany State University, in Southwest Georgia, has been a catalyst for change in the region from its inception as the Albany Bible and Manual Training Institute to its designation as a university. Founded in 1903 to educate African-American youth, the university continues to fulfill its historic mission while also serving the educational needs of an increasingly diverse student population. A progressive institution, Albany State University seeks to foster the growth and development of the region, state and nation through teaching, research, creative expression and public service. Through its collaborative efforts, the university responds to the needs of all of its constituents and offers educational programs and service to improve the quality of life in Southwest Georgia. For more information, see http://www.asurams.edu. Follow the university on Twitter at @AlbanyStateUniv and on Facebook at Albany State University Official Page.