Albany State University graduate programs named to list of best online degree programs
Early Childhood Education and Criminal Justice
programs earn quality, affordability designation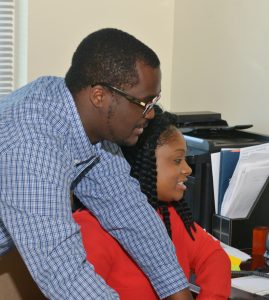 ALBANY, Ga. – Affordable Colleges Online has named Albany State University's online master's degree programs in early childhood education and criminal justice among the best in the state and nation.
Affordable Colleges Online, a leading resource for online learning and college affordability information, researches online graduate degree programs that offer the best balance of academic rigor, student support and affordability.
The ASU Master of Education in Early Childhood Education online degree program ranks second in best value, positioned just before Georgia Southern University on the list of 19 institutions.
"The M.Ed. in Early Childhood Education is one of our largest programs," said Rhonda C. Porter, professor of mathematics education and interim chair of the ASU Department of Teacher Education. "The program extends educators' knowledge in teaching and learning with a goal to improve K-5 education locally, statewide and throughout the nation. Having an online presence really makes ASU accessible to students throughout Georgia and the nation."
The online master's in early childhood education program places a strong emphasis on leadership, preparing students for administrative roles in all fields of education.
"I am very pleased with the M.Ed. in Early Childhood Education Program at ASU. The program, being online, offers the much needed flexibility and affordability for today's working teachers," said Courtney Baldwin, current ASU student and educator at Randolph County Elementary School in Cuthbert, Ga. "The courses are rigorous, and the teachers expect and demand excellence."
ASU's online criminal justice program ranks number nine among the 50 most affordable colleges, ranking above Armstrong State University.
"The recognition by AffordableColleges.com of our graduate online program in Criminal Justice is a clear demonstration of the quality, flexibility and the uniqueness of our programs," said Charles Ochie, professor and chair of the ASU Department of Criminal Justice and Forensic Science.
A list of Albany State University online graduate programs is available at https://www.asurams.edu/academic-affairs/graduate-studies/.
For more information about affordablecollege.com rankings, visit the Affordable Online Master's Degrees in Early Childhood Education and the Affordable Online Master's Degrees in Criminal Justice.
###
About Albany State University …
Albany State University, in Southwest Georgia, has been a catalyst for change in the region from its inception as the Albany Bible and Manual Training Institute to its designation as a university. Founded in 1903 to educate African-American youth, the university continues to fulfill its historic mission while also serving the educational needs of an increasingly diverse student population. A progressive institution, Albany State University seeks to foster the growth and development of the region, state and nation through teaching, research, creative expression and public service. Through its collaborative efforts, the university responds to the needs of all of its constituents and offers educational programs and service to improve the quality of life in Southwest Georgia. For more information, see http://www.asurams.edu. Follow the university on Twitter at @AlbanyStateUniv and on Facebook at Albany State University Official Page.