ASU Poetry Festival celebrates diverse artistic voices and visions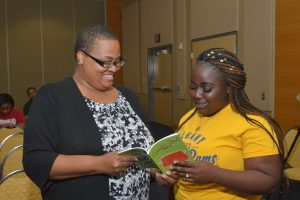 ALBANY, Ga. – Albany State University (ASU) celebrated the artistic essence of the written and spoken word at the 11th annual Poetry Festival, Nov. 5-7. Students, faculty, staff and the local community participated in the celebration.
The event featured poetry readings by leading poets and writers Yolanda J. Franklin, Carl Phillips, Joy Sheffield Handelman, and Bummi Niyonu Anderson. Attendees also participated in film screenings lectures and workshops.
"The college experience is not just a classroom experience, students need to be exposed to different things outside the class, including art," said Stephanie Hankerson, associate professor of English in the department of English, modern languages, and mass communication. Hankerson and Jeffrey Mack, an associate professor in the same department, served as festival coordinators.
"The ability to see artists from different parts of the country and to see their fellow peers engaging with something like literature is very beneficial because they are still learning but engaging as well," Hankerson said.
This year's theme, "Encounters" was inspired by the poem "Praise Song for the Day" written and performed by Elizabeth Alexander in commemoration of the Inauguration of President Barack Obama in 2009. The poem discussed how different people encounter each other through different words and different perspectives.
The festival was sponsored by the Department of English, Modern Languages and Mass Communication and the T. Marshall Jones Fine Arts and Lyceum Series.
###
Follow Albany State University on Twitter and Facebook @AlbanyStateUniv.