FEPAC reaffirms accreditation for ASU forensic science program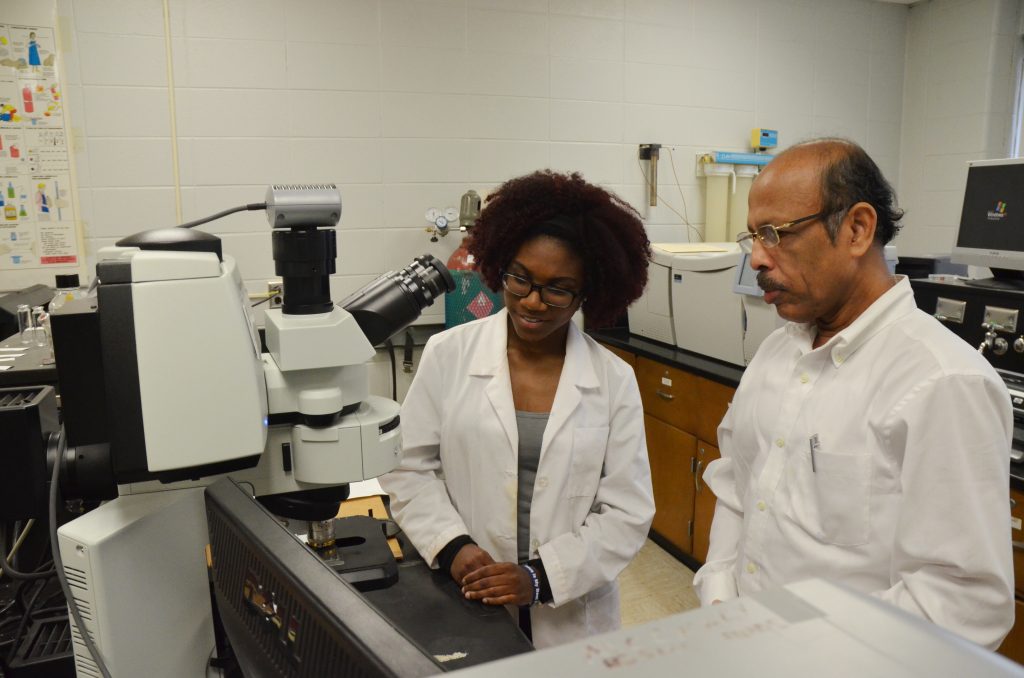 Zachariah Oommen, right, Albany State University professor and director of the forensic science program, assists an ASU student in utilizing lab equipment. Photo credit: Reginald Christian
ALBANY, Ga. – The Albany State University forensic science program received reaffirmation of accreditation through 2022 by the Forensic Science Education Programs Accreditation Commission (FEPAC), making it the only FEPAC accredited program in the state of Georgia.
The Commission noted that the ASU Bachelor of Science degree in forensic science meets FEPAC's rigorous principles of excellence, according to Zachariah Oommen, professor and director of the forensic science program.
"Students are trained according to the high standards set for accreditation," Oommen said.
The program provides a premier experience for students. Learning environments are equipped with microscope technology and the program offers courtroom sessions for mock trial and testimony training. Students regularly participate in research activities and complete internship opportunities at crime laboratories.
"The accreditation and reaccreditation of our forensic science program speaks to the excellence of the program and the faculty delivering the program, said Dean of the College of Sciences and Technology, Joyce Johnson. "We have demonstrated that students who graduate from this program have met the program outcomes and are prepared to enter the workforce and meet the standards for practitioners in the field. I am extremely proud of the program and this continued national accreditation which is held by no other program in the state and few programs across the nation."
The forensic science program recently received more than $600,000 in funding from the National Institute of Justice (NIJ) to conduct interdisciplinary forensic science research that relates to forensic detection. Research into microbiome, or genes of microorganisms in and on the body, may help link human touched objects to the identity of victims or suspects.
Reaffirmation of accreditation occurs every 5 years. The forensic science program was first accredited in 2007.
###
About Albany State University …
Albany State University, in Southwest Georgia, has been a catalyst for change in the region from its inception as the Albany Bible and Manual Training Institute to its designation as a university. Founded in 1903 to educate African-American youth, the university continues to fulfill its historic mission while also serving the educational needs of an increasingly diverse student population. A progressive institution, Albany State University seeks to foster the growth and development of the region, state and nation through teaching, research, creative expression and public service. Through its collaborative efforts, the university responds to the needs of all of its constituents and offers educational programs and service to improve the quality of life in Southwest Georgia. For more information see http://www.asurams.edu. Follow the university on Twitter at @AlbanyStateUniv and on Facebook at Albany State University Official Page.