Albany State University, Procter & Gamble partner to promote environmental sustainability
P&G donates $10,000 toward ASU's Global Sustainability Communication project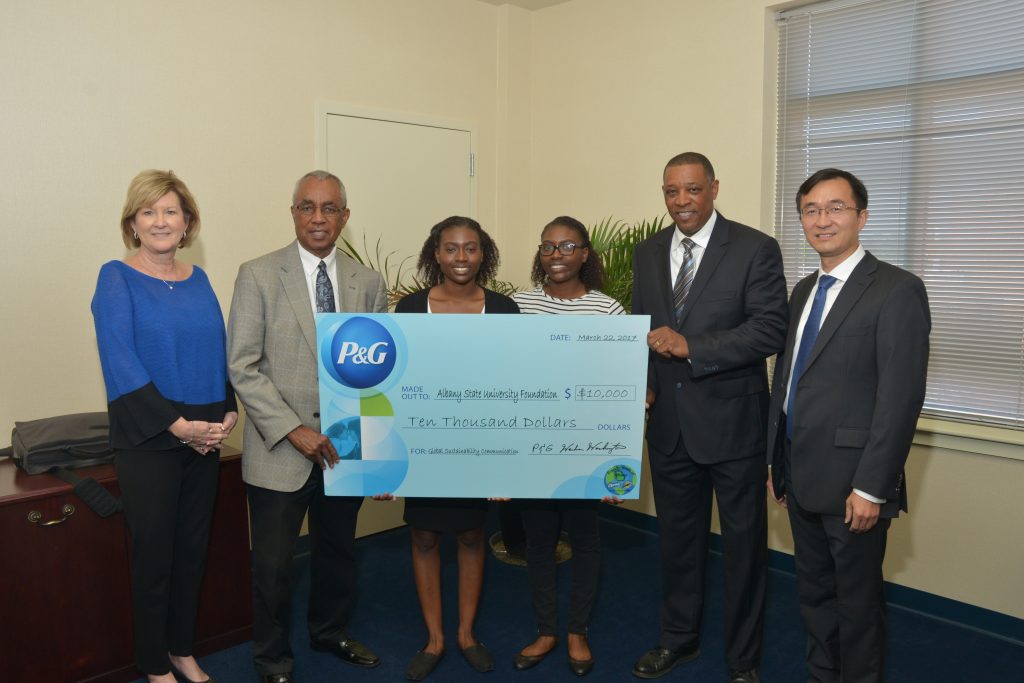 Procter & Gamble plant manager Werhner Washington, second from right, presents a $10,000 donation to ASU to support the university's Global Sustainability Communication project. Joining Washington are (left to right) Cynthia George, ASU Vice President of Institutional Advancement; Art Dunning, ASU President; Brandi Simpson, mass communication student; Brenda Simpson, mass communication student and Jianchuan Zhou, Global Sustainability Communication project director.
ALBANY, Ga. – A new initiative at Albany State University is educating students on how responsible manufacturing impacts the environment.
ASU is partnering with Procter & Gamble to promote the university's Global Sustainability Communication project. The project aims to raise awareness about environmental and sustainability issues and to encourage local and global action. Werhner Washington, Albany plant manager for P&G, presented ASU with a $10,000 check, Wednesday.
"P&G is thrilled to be able to support Albany State University. Sustainability is very important to P&G. It's clear that ASU believes and understands that education is not just in the classroom," Washington said.
The funds will be used for curriculum improvements related to sustainability and also for student scholarships and study abroad opportunities.
"The sustainability issue is truly a global issue," said Jianchuan Zhou, associate professor of mass communication and project director. "A lot of our students will complete projects while studying abroad in China. This generous gift form Procter & Gamble helps our students to become global citizens."
Last summer, P&G donated $5,000 toward ASU's China study abroad program. Eight ASU students collaborated with Chinese students at Xiamen University in Xiamen, China to report local news stories on environmental issues for Xiamen Daily, the flagship newspaper in Southeast China. Topics included Xiamen University's initiatives and programs addressing littering, the city's sorting of garbage and recyclable materials and new technologies developed to control pollutants in the waters surrounding the Xiamen area.
"I'm excited for this partnership because it gives our students a competitive advantage" said ASU President Art Dunning. "Great universities can't prosper without partnerships like P&G. It's a mutually beneficial collaboration."
While in China, students visited one of P&G's most sustainable plants, the Taicang plant in the Jiangsu province, where hair care and laundry products such as Pantene and Tide are manufactured. Students learned about the company's sustainability goals and the company's efforts to reduce environmental impact.
"Sometimes people are led to believe that if we're going to have sustainability and support sustainability that it can be very expensive and difficult for a company to grow their sales and profits while still supporting the environment," Washington said. "By visiting the Taicang plant, students had an up close and personal experience to see that we can deliver the objectives of the company and also be good to the environment."
Students participating in the program will receive training on sustainability journalism from faculty members, environmental experts and consultants.
"I am hoping that students participating in this project will learn the skills and gain the experience needed to report or communicate on sustainability and environmental issues," Zhou said. "Our students will help increase the public's awareness through their projects and through a partnership with the media."
###
About Albany State University …
Albany State University, in Southwest Georgia, has been a catalyst for change in the region from its inception as the Albany Bible and Manual Training Institute to its designation as a university. Founded in 1903 to educate African-American youth, the university continues to fulfill its historic mission while also serving the educational needs of an increasingly diverse student population. A progressive institution, Albany State University seeks to foster the growth and development of the region, state and nation through teaching, research, creative expression and public service. Through its collaborative efforts, the university responds to the needs of all of its constituents and offers educational programs and service to improve the quality of life in Southwest Georgia. For more information, see http://www.asurams.edu. Follow the university on Twitter at @AlbanyStateUniv and on Facebook at Albany State University Official Page.