Albany State University community helps with storm recovery efforts
ASU family and supporters provide resources in aftermath of severe weather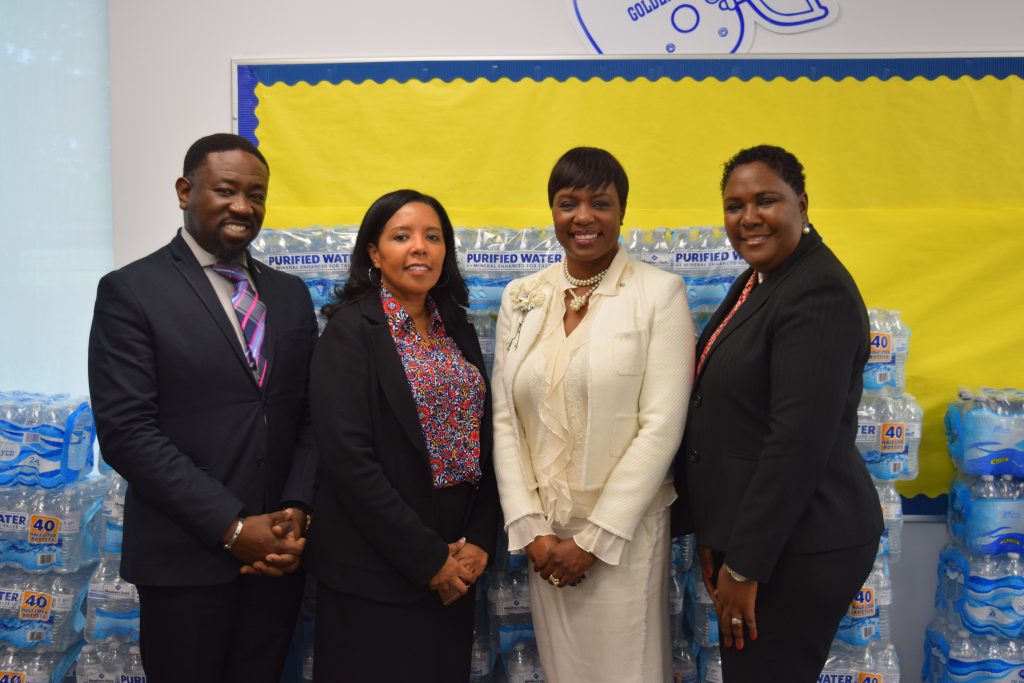 The Bahamas Consulate General, Atlanta staff donated 50 cases of water to ASU to assist with storm recovery. L to r: Robert M.O.S. Pinder, cultural & student relations attaché'; Cynthia Evers, ASU vice president of Student Affairs and Success; Monique D. Vanderpool, deputy consul general; and Katherine Kikivarakis, ASU director of Internal Audit.
ALBANY, Ga – The Albany State University community united to assist those impacted by the January storms and tornadoes by collecting donations and providing needed items to shelters and families in need.
ASU faculty, staff and students collected non-perishable food items, first aid kits, toiletries, diapers, pillows and blankets for families affected by the storms. The ASU Division of Student Affairs and Success also established a call center to ensure that all faculty, staff and students were accounted for and adequate referrals to resources were provided.
"The inclement weather may have destroyed parts of the city, however, it did not destroy the spirit of collaboration," said Cynthia Evers, vice president of Student affairs and Success. "The way the ASU family came together, supported and collaborated, within 24 hours of the last storm, demonstrated that we are one."
The tornado that hit the Southwest Georgia area nearly one month ago is responsible for approximately five deaths in Albany and Dougherty County, according to the Albany Herald. On Jan. 22, Georgia Gov. Nathan Deal declared a state of emergency for seven South Georgia counties. The tornado followed a Jan. 2 severe storm of straight-line winds that caused severe damage in northwest, central and east Albany.
"Albany State University stands with Albany, Southwest Georgia and all those affected by the January storms and tornadoes that severely damaged the area," said Art Dunning, president of ASU. "We are proud of our faculty, staff and students who understand that it is our responsibility, as part of this city and community, to serve those in need. We will continue to do what's necessary to help restore our region and continue to promote volunteerism at our institution. Those impacted by the recent devastating weather remain in our thoughts and prayers."
ASU has received an outpouring of support from partners to provide storm recovery supplies to those in need. Monique D. Vanderpool, deputy consul general for the Bahamas Consulate General, Atlanta office, donated 50 cases of bottled water on behalf of her staff and the government and citizens of the Bahamas.

The Bahamas Consulate General, Atlanta staff donated 50 cases of water to ASU to assist with storm recovery.
"We share in your grief, as the Bahamas, specifically, the islands of Andros and Grand Bahama were hard hit from the recent Hurricane Matthew. Bahamians are no strangers to natural disasters. We come to mourn with you and support you during this time," Vanderpool said.
"It was great to have the country that I was born and raised in, the Bahamas, to donate to Albany's tornado victims," said Katherine Kikivarakis, ASU director of Internal Audit. "They are familiar with the assistance needed and the rebuilding efforts necessary to restore a community. The donation by the Bahamas Consulate General, Atlanta, will go a long way in assisting our employees, students and citizens of Albany.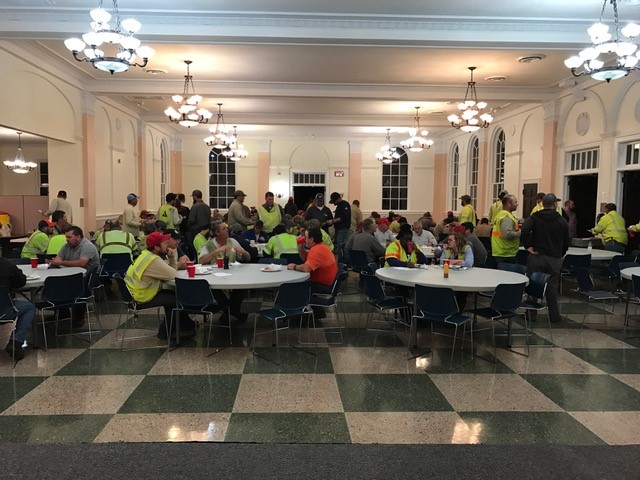 Georgia Power linemen from across the state dined at ASU before and after daily storm recovery efforts.
ASU food service provider, Aramark, prepared 200 lunches to the Albany Fire Department for responders. In addition, the ASU East and West campuses served as the dining location for 700 Georgia Power linemen from all over the state of Georgia.
The Darton State College Foundation donated $2,500 to the American Red Cross sponsored Georgia Disaster Relief Fund to support relief efforts in South Georgia.
Students from Georgia Gwinnett College (GGC), located in Lawrenceville, Ga., traveled three hours to Albany to assist ASU Student Government Association members walking door-to door to deliver supplies to Albany residents and to help with clean-up. The nearly 20 GGC students and one faculty member did not come empty handed. After collecting supplies over four days, the students traveled to Albany January 27 and 28 with bottled water, hygiene products, pet food and supplies and gently used clothing items. The visiting volunteers were housed in ASU dorms during the visit.
###
About Albany State University …
Albany State University, in Southwest Georgia, has been a catalyst for change in the region from its inception as the Albany Bible and Manual Training Institute to its designation as a university. Founded in 1903 to educate African-American youth, the university continues to fulfill its historic mission while also serving the educational needs of an increasingly diverse student population. A progressive institution, Albany State University seeks to foster the growth and development of the region, state and nation through teaching, research, creative expression and public service. Through its collaborative efforts, the university responds to the needs of all of its constituents and offers educational programs and service to improve the quality of life in Southwest Georgia. For more information, see http://www.asurams.edu. Follow the university on Twitter at @AlbanyStateUniv and on Facebook at Albany State University Official Page.
Save