ASU honors military veterans with week-long celebration
ASU honors military veterans with week-long celebration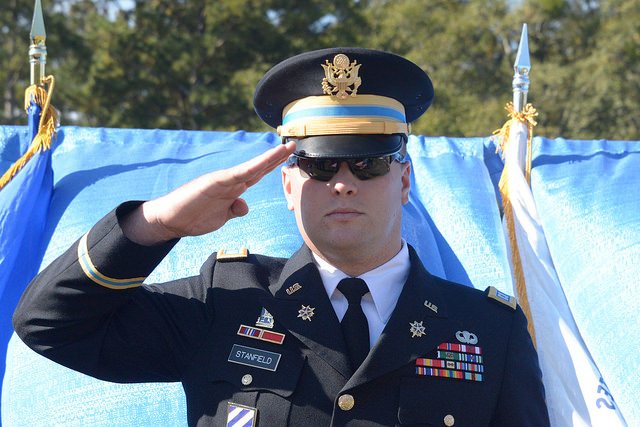 ALBANY, Ga – The ASU Veterans Day committee invites all students, faculty, and staff to participate in a week-long celebration honoring the service of U.S. military personnel. From Monday, Nov. 6 through Friday, Nov. 11, the ASU campus will highlight a range of activities to recognize military men and women. Veterans Day is Nov. 11.
The week will begin, Monday, with a Veterans Wall of Heroes featuring photos of family, friends, students, faculty, and staff members. The photos and brief descriptions will be displayed in the student centers of East and West campus from Nov. 6, 2017 through Nov. 11.
On Tuesday, Nov. 7, a 5K Run/Walk will be held at 6:30 a.m. All participants are asked to come to the ROTC building and wear paraphernalia representing his or her preferred branch of service. The route will be given that morning. Light refreshments will be served following the event.
The week continues on Wednesday, Nov. 8 with the collection of resources like toiletries and undergarments for those in need at the local veterans home for disabled or displaced veterans. Faculty and staff are being asked to purchase and donate the underwear (t-shirts sizes medium through x-large and boxers sizes medium through x-large). The department or organization with the most items collected will receive a trophy and bragging rights for the year. The winners will be announced at the Veterans Day Program, on Friday Nov. 10. Items will be collected through Nov. 3. Administrative assistants will collect from each department. A challenge has also been extended to ASU student organization to collect the toiletry items.
On Thursday, Nov. 9, the committee will host a Thank You Card to a Veteran initiative. All members of the campus community are invited to stop by designated table on the east and west campus to create and sign thank you cards. Paper, crayons, and markers will be provided. The time, date, and place will be announced.
The week will conclude Friday, Nov. 10 with a ceremony to commemorate the holiday. The ceremony will be held at 11 a.m. outside of the L'Orene Hall Building on the East campus.
An abbreviated schedule of events is below.
Monday: Wall of Heroes (West Campus) 10:00 a.m. C Bldg
Tuesday: 5K Run/Walk (East Campus) 6:30 a.m. ROTC Bldg
Wednesday: Day of Service Collection 4:30 p.m. 103 C (W) SA (E)
Thursday: Thank you cards 12:00 noon Student Center E & W
Friday: Veterans Day Ceremony (East) 11:00 a.m. L'Orene Hall Building
###
About ASU …
Albany State University, in Southwest Georgia, has been a catalyst for change in the region from its inception as the Albany Bible and Manual Training Institute to its designation as a university. Founded in 1903 to educate African-American youth, the university continues to fulfill its historic mission while also serving the educational needs of an increasingly diverse student population. A progressive institution, Albany State University seeks to foster the growth and development of the region, state and nation through teaching, research, creative expression and public service. Through its collaborative efforts, the university responds to the needs of all of its constituents and offers educational programs and service to improve the quality of life in Southwest Georgia. For more information, please visit https://www.asurams.edu/. Follow the university on Twitter and Facebook @AlbanyStateUniv.